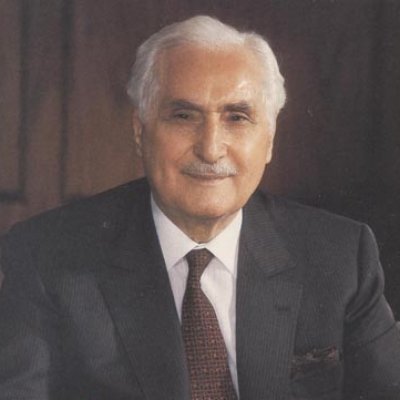 Abd al-Majid Shuman
عبد المجيد شومان
Birth of Abd al-Majid Shuman in Beit Hanina
1912
Shuman Joins His Father in New York to Continue His Education
1926
Abd al-Majid Shuman Graduates with an MA in Economics and Banking in New York
1936
Abd al-Majid Shuman Returns to Palestine to Run the Arab Bank with His Father
1936
Abd al-Majid Shuman Becomes the Chairman of the Arab Bank
1974
Establishment of the Abd al-Hamid Shuman Foundation in Amman
1978
Establishment of the Arab Bank Center for Scientific Research
1999
Death of Abd al-Majid Shuman in Amman
2005
Abd al-Majid Shuman was born in the town of Beit Hanina, district of Jerusalem. His father was Abd al-Hamid Shuman. He and his wife, Na'ila Ahmad Hilmi Abd al-Baqi, had two sons: Abd al-Hamid and Ahmad.
Shuman was brought up by his grandmother, his father having emigrated to the United States and his mother having died in a tragic accident when he was just over one year old.
He completed his elementary school education at the Beit Hanina School and then at the Rawdat al-Ma'arif al-Wataniyya School in Jerusalem.
In 1926, his father invited him to join him in New York to continue his education. He first enrolled at Newton High School and then at New York University where, in 1934, he graduated with a BA in Economics and Banking; he earned an MA in the same field in 1936.
Immediately after graduation, Abd al-Majid returned to Palestine where he joined his father in running the Arab Bank, which had opened its first branch in 1930. This took place amidst tense political circumstances that would soon give rise to the Palestinian General Strike of 1936, followed by the armed revolt against Jewish immigration and against the policies of the British Mandate in support of the Zionist project to create a Jewish state in Palestine.
Following the Nakba of Palestine in 1948, the bank's headquarters were moved to Amman, and the bank was officially registered as a public joint-stock company. Abd al-Majid and his father worked to reestablish the branches of the bank that had closed in Palestine after the Nakba or had fallen with the major Palestinian cities into Israeli hands. The Arab Bank restored all its clients' deposits to their owners, in conformity with the highest banking standards in the world. This contributed in no small measure to relieving the sufferings of tens of thousands of Palestinian refugees.
Following the death of the bank's founder Abd al-Hamid in 1974, Abd al-Majid took over the chairmanship of the Arab Bank, which had by then become a well-established Arab financial institution. In the space of three decades, Abd al-Majid, along with his stepbrother, Khalid, turned the Arab Bank into the widest-spread Arab bank and financial institution and one of the most internationally trusted. As of 2017, it had 378 branches and offices spread across five continents.
In 2001, the Board of Directors of the Arab Bank elected Abd al-Hamid Shuman (the founder's grandson) as vice chairman and general manager of the Bank while Abd al-Majid remained as chairman of the board.
Abd al-Majid was very much concerned with supporting educational and scientific projects for citizens of Arab countries, and he contributed generously to any project that sought to advance social development. In fulfillment of his father's wishes to devote a portion of the bank's profits to establish a nonprofit foundation in Amman concerned with education and culture in the Arab world, Abd al-Majid established in 1978 the Abd al-Hamid Shuman Foundation. Among its most important programs are The Abd al-Hamid Shuman Cultural Forum, The Public Library, The Children's Library, and the Arts Home (Darat al-Funun). In 1999, he established The Arab Bank Center for Scientific Research, which conducts scientific research on economic and financial affairs.
In addition, Shuman established prizes and awards to encourage youth in the fields of scientific research. In 1999, he set up the international Jerusalem Prize awarded to an individual whose career demonstrates exceptional originality in the field of studies on Arab Jerusalem.
Together with his numerous activities, Shuman chaired several boards of trustees of many development institutions such as the Diana Tamari Sabbagh Foundation, the Welfare Association in Geneva (which offers aid to Palestinians in Palestine and in the camps), the Jordan Medical Aid for Palestinians, and the Medical Care Society in Ramallah.
Shuman also headed the Palestine National Fund attached to the PLO from 1964 to 1969 and founded the Jerusalem Development and Investment Company, which offered financial aid to support the continued Arab Palestinian presence in Jerusalem. He was for many years a member of the Palestine National Council and was appointed a member of the Jordanian Senate for two sessions (in 1988/89 and 1993/97). He was also chairman of the Association of Banks in Jordan.
Shuman was awarded many medals in his lifetime, including the Jordanian Independence Medal, first and second class; the Nahda and Kawkab medals; and the French Commandeur de l'Ordre National du Mérite.
Abd al-Majid Shuman died in Amman on 5 July 2005, aged 94. His death was officially announced by the Jordanian prime minister, Adnan Badran. King Abdullah II ordered that he be buried in the royal cemetery and in 2006 the Amman Municipality renamed the Abdoun Circle by his name.
Shuman is considered one of the most prominent Arab bankers and a major supporter of Arab economic development. He was able to transform the Arab Bank, established by his father, from a local bank to a great international financial institution. He was deeply concerned with supporting education and culture and encouraging creativity. Like his father, his interactions with people reflected high standards of morality.
Sources
Abdul Hadi, Mahdi, ed. Palestinian Personalities: A Biographic Dictionary. 2nd ed., revised and updated. Jerusalem: Passia Publication, 2006.
Fischbach, Michael R., ed. Biographical Encyclopedia of the Modern Middle East and North Africa. vol 2. Detroit: Thomson Gale, 2007.
شومان، عبد الحميد. "العصاميّ: سيرة عبد الحميد شومان". بيروت: المؤسسة العربية للدراسات والنشر، 1982.
صحف: "الرأي": عمّان، 6 تموز 2005؛ "المستقبل": بيروت، 7 تموز 2005؛ "الشرق الأوسط": لندن، 6 تموز 2005.
لوباني، حسين علي. "معجم أعلام فلسطين في العلوم والفنون والآداب". بيروت: مكتبة لبنان ناشرون، 2012.