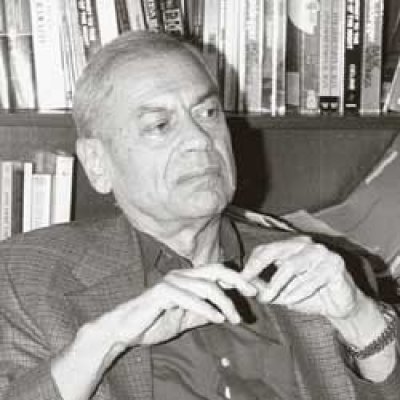 Hisham Sharabi
هشام شرابي
Hisham Sharabi was born in Jaffa to Bashir Sharabi and Fatma al-Soufi. He had three brothers (Khaled, Nizam, and Nazeem) and two sisters (Itaf and Afaf). He had two daughters: Leyla and Nadia.
Sharabi spent his childhood in Jaffa and Acre at the home of his grandfather Aref al-Soufi. He went to the English Nursery School in Jaffa and attended the Friends School in Ramallah (at the time also a boarding school) for the elementary grades. He then completed his secondary schooling (1939-43) at the International College that was affiliated with the American University of Beirut (AUB). He enrolled at AUB in Autumn 1943 and received a BA in philosophy in 1947.
In June 1946, during his studies at AUB, Sharabi joined the Syrian Social Nationalist Party (SSNP, known also as Parti Populaire Syrien PPS).
In late 1947, he traveled to the United States to study at the University of Chicago, where he earned an MA in philosophy in December 1948.
Sharabi returned to Beirut in early 1949 in order to militate within the SSNP. He helped the party's founder Antoun Saadeh to restructure the party and reorganize its ranks. He was appointed as the party's "deputy chief of cultural affairs and fine arts" and editor of its monthly magazine al-Nizam al-Jadid (The New Order).
When the Lebanese authorities in June 1949 pursued Saadeh and SSNP officials, including Sharabi, the latter fled to Amman. He emigrated to the United States in July (days after the trial and execution of Antoun Saadeh in Beirut). He enrolled at the University of Chicago to work on his doctorate where he switched fields from philosophy to modern history. He participated in running the SSNP's branch in the United States until he resigned from the party in 1955.
After earning his Ph.D. with a dissertation titled "The Cultural Relationship between Europe and the Islamic World in Twelfth-Century Toledo," Sharabi was appointed as lecturer at Georgetown University in Washington, DC, in 1953, where he taught courses on Middle Eastern politics. After 1967, he taught courses on the history of modern European thought since Hegel.
In 1963, Sharabi received a fellowship from AUB. He spent the academic year in Beirut working on the text of his Nationalism and Revolution in the Arab World (published in 1966).
In summer 1969, Sharabi visited the bases of the armed Palestinian resistance in Jordan, during which he met with the guerrilla fighters. He also held meetings with some resistance leaders such as George Habash, Khaled al-Hassan, and Salah Khalaf, and recorded what he observed during these meetings in his book Palestine Guerrillas: Their Credibility and Effectiveness.
During the 1970-71 academic year, Sharabi taught in the Philosophy Department at AUB as a visiting professor and worked with Yusif Sayigh at the Planning Center of the Palestine Liberation Organization. During his stay in Beirut, he participated with those in charge of the Institute for Palestine Studies in preparing the publication of the Journal of Palestine Studies and served as its editor-in-chief from its first issue in Fall 1971 to issue 124 in Summer 2002.
In the fall of 1971, he returned to his teaching job at Georgetown University. In 1974, Sharabi decided to return permanently to Lebanon. He rented an apartment in the Ras Beirut neighborhood. However, the eruption of the civil war forced him to return to Washington, so he renewed his contract with Georgetown to continue teaching modern European thought there. In 1977, he was named to the Omar al-Mukhtar Chair of Arab Culture at Georgetown University
In 1977, Sharabi founded the Jerusalem Fund for Education and Community Development, which offered scholarships to Palestinian students. Later in 1990, in another contribution to institution-building related to Palestine, he founded and chaired the Center for Policy Analysis on Palestine in Washington, DC, a position he held until 2005.
In 1988, his well-known book Neopatriarchy: A Theory of Distorted Change in Arab Society was published by Oxford University Press. It was also published in Arabic in early 1992.
Sharabi returned as visiting professor to AUB in spring 1993, this time to its history department. In the fall of that year, after the PLO and Israel signed the Oslo Accords, Sharabi visited Palestine and went to his birthplace Jaffa. By late 1996, he began to take a critical position on the Oslo agreement. In his opinion, the alternative to Oslo was for the Palestinians to strategize and act on two fronts: the joint struggle with other Arabs against the Israeli occupation and against Zionist settlement and the rebuilding of Palestinian society both inside Palestine and in the diaspora.
Sharabi retired from teaching at Georgetown in 1998 and moved back to Beirut. He died there on 13 January 2005 after a long battle with cancer, and his funeral was held by his family members and attended by representatives from both Palestinian and Lebanese groups and parties.
Hisham Sharabi was an engaged intellectual and an institution builder. He can be considered one of the most prominent Palestinian and Arab thinkers, who, through his distinguished contributions to the fields of philosophy, history, and sociology, imposed a major presence on the Arab cultural scene, and was renowned in academic and intellectual circles in the West, especially in the United States.
A Brief Summary of Hisham Sharabi's Neopatriarchy: A Theory of Distorted Change in Arab Society
In this book, Sharabi aims to uncover the causes of and remedies for underdevelopment in the Arab world. By underdevelopment, he does not mean economic or educational underdevelopment, but rather the underdevelopment that is embedded in the depths of patriarchal (and neopatriarchal) culture. This takes many distinct forms but has two interconnected characteristics: irrationality and powerlessness. He considers that the fate of Arab society depends on its ability to overcome its patriarchal (and neopatriarchal) structure, based mainly on the subjugation of women, and to replace it with a modernized society. This must occur through a process of social and individual self-transformation.
Selected Writings
Nationalism and Revolution in the Arab World. Princeton, NJ: Van Nostrand, 1966.
Arab Intellectuals and the West: The Formative Years, 1875-1914. Baltimore: Johns Hopkins University Press, 1970.
Palestine Guerrillas: Their Credibility and Effectiveness. Beirut: Institute for Palestine Studies, 1970.
Neopatriarchy: A Theory of Distorted Change in Arab Society. Oxford: Oxford University Press, 1988.
Embers and Ashes: Memoirs of an Arab Intellectual. Translated by Issa J. Boullata. Northampton, MA: Olive Branch Press, 2008.
"مقدمات لدراسة المجتمع العربي". بيروت: الدار المتحدة للنشر، 1975.
[Preliminary Considerations for the Study of the Arab Society]
"البنية البطريركية: بحث في المجتمع العربي المعاصر". بيروت: دار الطليعة، 1987.
[The Patriarchal Structure: On the Contemporary Arab Society]
"أزمة المثقفين العرب: نصوص مختارة". بيروت: دار نلسن، 2002.
[The Crisis of Arab Intellectuals: Selected Texts]
"صور الماضي: سيرة ذاتية". بيروت: دار نلسن، 1993.
[Images of the Past: An Autobiography]
"نصوص ومقالات في القضية الفلسطينية 1970-2000". بيروت: دار نلسن، 2001.
[Essays on the Palestine Question, 1970-2000]
"النقد الحضاري للمجتمع العربي في نهاية القرن العشرين". بيروت: مركز دراسات الوحدة العربية، 1990 .
[Cultural Critique of Arab Society at the End of the 20th Century]
Sources
Abdul Hadi, Mahdi, ed. Palestinian Personalities: A Biographic Dictionary. 2nd ed., revised and updated. Jerusalem: Passia Publication, 2006.
Antoon, Sinan. "Sharabi Hisham." In Philip Mattar, ed. Encyclopedia of the Palestinians. New York: Facts on File, 2005.
Davidson, Lawrence. "Remembering Hisham Sharabi." Journal of Palestine Studies 135, no.3 (Spring 2005): 57-64.
أبو فخر، صقر. "هشام شرابي وفلسطين: الحاضر كابوس، والماضي هو الحقيقة". "مجلة الآداب"، العدد 11-12 (2005)، ص 45-49 .
بلحاج، الزهرة. "الغرب في فكر هشام شرابي". بيروت: دار الفارابي، 2004.
دايه، جان. "هشام شرابي صحافياً". بيروت: دار نلسن، 2006 .
العودات، يعقوب. "من أعلام الفكر والأدب في فلسطين". عمان: د.ن.، 1976.
معزوز، عبد العالي. "هشام شرابي ونقد النظام الأبوي في المجتمع العربي". بيروت: مركز دراسات الوحدة العربية، 2012.
"هشام شرابي يروي قصة ثلاث مدن عاش فيها: عكا وبيروت وواشنطن". مقابلة حررها وقدم لها محمود شريح. كولونيا: منشورات الجمل، 1994.