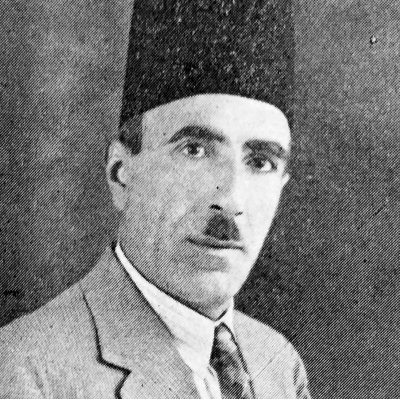 Iskandar al-Khoury al-Beitjali
إسكندر الخوري البيتجالي
Iskandar al-Khoury, popularly known as "al-Beitjali" (the man from Beit Jala), was born in the Jerusalem suburb of Ayn Karim most likely in 1889. His father, Jiryes Yaʿqub, an Orthodox Christian priest and teacher, and his mother, Hilwe Ayyub, both hailed from Beit Jala. Iskandar had two elder brothers, Farah and Niqula.
Iskandar al-Khoury was married to a Russian woman of Cossack origin named Irina Petrovna Cherbenenkova. They had six sons, one of whom died prematurely. Three of them were named Emile, George, and Anis. Anis continued his higher education, earned a doctorate degree, and became a professor at Long Island University in New York.
At an early age, Khoury enrolled in the Greek Orthodox School in Beit Jala, where he received religious lessons to become a priest, but his father abandoned this idea and sent him instead to the Russian Teachers' College in Nazareth. He spent a few years there studying Arabic language and literature. From there he attended the Salesian Friars School in Bethlehem for one year to study French. After completing his preparatory education, Khoury attended the Greek Catholic Patriarchate College in Beirut in 1902, where he studied under the well-known man of letters and professor of Arabic, Abdallah al-Bustani, and obtained a degree in Arabic literature in 1906. It was in Beirut that his poetic talent revealed itself.
Khoury returned to Beit Jala and worked as a teacher briefly. In 1907, he moved to Cairo, where he took a clerical position as a stenographer in the Egyptian telegraph office, while also rubbing shoulders with Egyptian literati and composing poetry. During this time he was able to publish his poems in some newspapers and magazines.
He then returned to Palestine in early 1909 following the restoration of the Ottoman constitution in July 1908. He was elected as a member of the Arab delegation that the Arab Orthodox community sent to the Ottoman capital, to press a claim against the Greek members of the Patriarchate in Jerusalem, who had refused to recognize the rights of the Arabs in the Orthodox Church.
After returning to Palestine, Khoury was appointed principal of the Karak Orthodox School in Transjordan, but he did not hold this position for long and returned to Jerusalem, where he taught Arabic and French at the College des Frères, St. George School, and the Russian School for girls.
After Britain occupied Palestine and imposed its mandate, Khoury was appointed as a clerk in the chamber of the judicial counsel of Jerusalem. Then in 1921 he assumed the presidency of the al-Najah Association of Beit Jala. Khoury had already enrolled at the Palestinian Law Classes in Jerusalem, which was founded in 1920. He studied there for four years, and after graduating, he was appointed head of the registry of the Court of Appeal, and then as a magistrate, in Jerusalem from 1927 to 1931. After that, he started to move from one Palestinian city to another.
He retired from his job in January 1945, after which he practiced law and devoted himself to composing poetry and writing his reflections for major Arab newspapers and magazines.
After the Nakba, Khoury was forced to flee from his home in West Jerusalem's Qatamon neighborhood, leaving behind all his savings. He took up residence in Beit Jala, where he was appointed legal advisor to the International Red Cross for the Bethlehem-Hebron region in late 1948. Later he was appointed inspector for the schools of the United Nations Relief and Works Agency for Palestinian Refugees (UNRWA) in 1949, and a contributor to the "Talk of the Town" [ahadith al-nas] column in the Jerusalemite newspaper al-Difaʿ [Defense].
In 1952, Khoury was part of a delegation of Arab Orthodox Christians that toured a number of countries in South America to collect donations for a shelter for the sick and disabled in Jerusalem. After completing this humanitarian mission, he returned to Palestine and resumed practicing law. He was given his own column in the "diary of struggle" [yawmiyyat al-jihad] section of the Jerusalem newspaper Al-Jihad [The struggle]. He was also appointed to teach Arabic literature at the Lutheran School in Bethlehem.
Khoury passed away on 7 July 1973 in the town of Beit Jala and was buried there.
Iskandar al-Khoury was a writer, poet, journalist, and jurist. In addition to Arabic, Khoury was fluent in five languages: Turkish, English, French, Greek, and Russian. He published eight collections of poetry, the first of which came out in 1919 titled al-Zafarat [Sighs]. Social issues were a dominant theme in his poetry, and he wrote the following in the preface to his collection Mashahid al-hayat [Vignettes from life]: "yet, the best thing that a poet should direct his poetic energies to is poetry that deals with social issues, because a poem that contains within it a lesson that drives one to tears or an incident that drives one to laughter with the aim of reforming our society, has a more powerful impact on the psyche of the reader or listener than any other type of poetry. It was this kind of poetry that heaved in my chest, which cast it onto my tongue as poems which were mostly socially engaged."
Khoury was influenced by world literatures, particularly Russian, French, and English, which was evident in his novel al-Hayat baʿd al-mawt [Life After death], where he mentioned the writers Alexander Pushkin, Leo Tolstoy, and William Shakespeare in the introduction. The novel itself is replete with characters who live a wretched existence, reminiscent of Les Misérables of France's Victor Hugo.
 Selected Works
Poetry
"الزفرات". القدس: مطبعة بيت المقدس، 1919
[Sighs]
 "دقات قلب". القدس: مطبعة بيت المقدس 1923.
[Heartbeats]
 "مشاهد الحياة" (المختار من ديواني الزفرات ودقات قلب)، القدس، مطبعة بيت المقدس 1927.
[Vignettes from Life (selections from the above two collections)]
 "المثل المنظوم". القدس: مكتبة فلسطين العلمية (ط 3)، 1946.
[Parables in Verse]
"آلام وآمال من وحي الكارثة"، القدس، المطبعة العصرية" (د .ت).
[Hope and Suffering inspired by the Catastrophe]
Prose
"الحياة بعد الموت: رواية تاريخية غرامية اجتماعية"، القدس، مطبعة بيت المقدس، 1924.
[Life after Death, a Novel of History, Romance and Society]
"ذكرياتي-ناشئاً وقاضياً ومحامياً وعاملاً في حقلَي الأدب والصحافة"، القدس، مطبعة المعارف، 1972.
[My Memoirs as a Young Man, a Judge, Lawyer and a Worker in the Fields of Literature and Journalism]
"الأعمال الكاملة" (الأعمال اشعرية: جزءان؛ الأعمال النثرية: جزءان). بيت جالا: لجنة احياء تراث الشاعر اسكندر الخوري البيتجالي، 2022.
[Collected Works]
Translations
Auguste Maquet. La Belle Gabriella. Jerusalem: 1928.
Sources
الأسد، ناصر الدين. الاتجاهات الأدبية الحديثة في فلسطين والأردن. القاهرة: معهد البحوث والدراسات العربية، 1957.
الأسطة، عادل. "إسكندر الخوري البيتجالي : فلسطين في الرواية الفلسطينية قبل العام 1948"، الأنطولوجيا، 29 كانون الثاني/يناير 2021:
https://alantologia.com/blogs/40114/ 
الحسيني، خليل محمد سالم. إسكندر الخوري البيتجالي: حياته وأدبه. القدس: المؤلف، 1981.
حمادة، محمد عمر. أعلام فلسطين. الجزء الثاني. دمشق: دار قتيبة، 1991.
الخوري، اسكندر. ذكرياتي-ناشئاً وقاضياً ومحامياً وعاملاً في حقلَي الأدب والصحافة. القدس: مطبعة المعارف، 1972.
سليمان، موسى. "إسكندر الخوري البيتجالي"، عمان، مجلة أفكار، وزارة الثقافة، العدد 23، حزيران 1974، ص 134-142 .
علي، ياسر. " الشعر والهوية الفلسطينية.. إسكندر الخوري البيتجالي نموذجاً"، موقع عربي 21، 19 حزيران/يونيو 2021:
https://arabi21.com/story/1366445/الشعر-والهوية-الفلسطينية-إسكندر-الخوري-البيتجالي-نموذجا
العودات، يعقوب. من أعلام الفكر والأدب في فلسطين. عمان: 1976.
نمر، موسى إبراهيم. "إسكندر الخوري البيتجالي : حياته و شعره الوطني، دراسة موضوعية فنية"، جامعة الكويت، حوليات الآداب والعلوم الاجتماعية، 2012.
Abdul Hadi, Mahdi, ed. Palestinian Personalities: A Biographic Dictionary. 2nd ed., revised and updated. Jerusalem: Passia Publication, 2006.