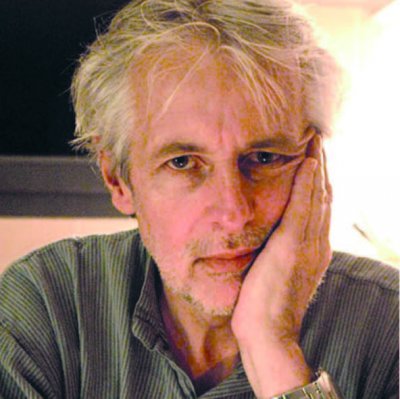 François Abou Salem
فرانسوا أبو سالم
16 November 1951,
Provins
François Abou Salem (born François Gaspar) was born on 16 November 1951 in the French town of Provins. He was the son of Loránd Gáspár, a French poet and surgeon of Hungarian descent, and Francine Gáspár, a stage and costume designer.
In 1954, Loránd Gáspár was appointed as head of the French hospital in Jerusalem. The family settled in the eastern part of the city where the young François lived for ten years until he moved to Lebanon at the age of thirteen to pursue his secondary education at Collège Notre Dame de Jamhour. In 1968, he headed to France to pursue an education in theater, first in Strasbourg, and then at the experimental Théâtre du Soleil with Ariane Mnouchkine. Sources on his French sojourn are scant and thus little is known of that period. By the early 1970s, François had decided to go back to Palestine, where he took up work as the librarian of the École biblique et archéologique française de Jérusalem and became a press photographer as well as a stage actor and director. During this time he adopted the surname Abou Salem. He wanted to give substance to the Palestinian component of his identity in terms of cultural belonging. This commitment was reflected in his lifelong devotion to Palestinian theater.
Early Theatrical Productions 
In 1971 François Abou Salem founded The Balloons (Balalin in Arabic), an experimental theater company based in Jerusalem. However, he left the company, following differences among its members and founded Bilā līn in 1974. In both its iterations, the company brought together amateur actors, among whom Emile Ashrawi, Mohammad Anis, and Adel al-Tartir went on to become major figures in Palestinian theater. By virtue of its prolific and daring output, the company marked a milestone in the development of modern Palestinian theater. It staged over half a dozen plays in as many years, including Qiṭʿat hayat (Slice of Life) in 1971; al-Atma (Darkness) in 1972; Nashrat aḥwal al-jaw (The Weather Report) and a​l-Kanz (The Treasure) in 1973; al-Qaʿida wa-l-istithnaʾ (The Exception and the Rule) based on Bertolt Brecht's play of the same title in 1974; al-Ibra (Example) and Free Combat (Musaraʿa hurra) in 1975; and Lamma enjannayna (When We Went Crazy) in 1976. Collective writing techniques based on improvisation and stage experimentation were a hallmark of the group's approach at a time when theater in Palestine was more conventionally based on published plays. The productions addressed pressing questions, such as the impact on Palestinian society of Israel's political and military occupation and women's roles and the burdens of tradition. From these early experiments, François Abou Salem emerged as a foundational figure in Palestinian theater.
Founder of Contemporary Palestinian Theater
In 1977, Abou Salem co-founded Jerusalem's El-Hakawati company with Jackie Lubeck, his then-wife. El-Hakawati is considered by both scholars and theater practitioners as the first professional stage company in the history of Palestinian theater. The name that the founders chose for the company signaled their desire to honor local theatrical story-telling traditions centered on the figure of the hakawati (storyteller) and to push back against the widely held view that theater was an imported European genre. The company premiered in October 1978 in Jerusalem with Bism al-abb wa-l-umm wa-l-ibn (In the Name of the Father, the Mother, and the Son), a play that garnered wide press coverage as well as controversy: while it was praised in some quarters for its innovative, avant-garde approach, others judged it inappropriate. The play called out the dual oppression suffered by Palestinian society, from the Israeli military occupation on the one hand and patriarchal social norms on the other. In April 1980, the company went on tour, performing at international venues throughout Europe and the Maghreb, the first Palestinian theater company ever to do so. In November 1980, El-Hakawati staged its second play, Mahjoub mahjoub, which met with resounding success and had a run of more than 120 performances. After taking that play on tour overseas, the company wrote and staged Alf layla wa layla fi suq al-lahhamin (A Thousand and One Nights in the Meat Market) in 1982 and Jalili ya 'Ali (Ali the Galilean) in 1983.
El-Hakawati, the Palestinian National Theatre
Seven years after its founding, El-Hakawati took over the abandoned building of the old Al-Nuzha cinema in the heart of East Jerusalem. Following renovation work mostly carried out by company members, Palestine's first national theater officially launched on 9 May 1984. The theater venue featured two performance spaces: one auditorium seating 400, now named the François Abou Salem Hall, and another of 150 seats, named for national poet Samih al-Qasim. When it secured good technical equipment, the company was able to fulfill its goal of becoming fully professional. It also achieved another of its founders' aims: to become a center of artistic creativity and cultural activity, opening its doors to other troupes, theater practitioners, and artists and hosting art exhibitions, musical recitals, and film screenings.
Amplifying voices that affirmed Palestinian political consciousness and social identity, El-Hakawati was not only a pioneer in Palestine but also impacted theater practices elsewhere. In recognition of this contribution to Palestinian national identity, Palestinian Authority President Yasir Arafat awarded François Abou Salem the Palestine Prize for theater in 1998. In the early 2000s, El-Hakawati became Palestine's national theater with its official name established as the Palestinian National Theatre – El-Hakawati. As one of East Jerusalem's premier artistic and cultural landmarks and an indispensable element of local cultural and political life, it remains the only theater still functioning in the city.
Contributions to the Palestinian Repertoire
François Abou Salem's plays cover a large range of themes whose styles and production methods are equally varied. These include Qissat al-'ayn wa-l-sinn (The Story of the Eye and the Tooth, 1986), Qissat Kufur Shamma (The Story of Kufur Shamma, 1987), Al-Baheth 'an 'Omar Khayyam mururan bi-l-hurub al-salibiyya (In Search of Omar Khayyam by Way of the Crusades, 1990), Ariha 'am sifr (Jericho Year Zero, 1994), Sant Gini wara' al-kawalees (Saint Genet behind the Scenes, 1995), Mutel (Motel, 1997), and Fi dhill al-shahid (In the Martyr's Shadow, 2011).
Abou Salem also adapted several works from the international canon, including Brecht's The Exception and the Rule (1974 and 1986); Mistero Buffo (1988), based on the work of Dario Fo; Report for an Academy (1992), inspired by Franz Kafka's short story; Canticle of the Birds (1993), based on Farid al-Din Attar's medieval prose poem; and Abu Obu fi suq al-lahhamin (Abu Ubu in the meat market), an adaptation of Alfred Jarry's acclaimed Ubu Roi (2009). In addition, Abou Salem staged Arabic texts drawn from popular oral or written literature, including La, lam yamut (No, He Didn't Die, 2002) by Hussein Barghouti, The Epic of Gilgamesh (2006), and Dhakirat al-nisyan (Memory for Forgetfulness, 2007) by Mahmoud Darwish.
Abou Salem also produced and directed two films, Bread and Salt (1978) and Jerusalem, Gates to the City (1995). His prowess was evident, too, in opera works he staged and directed, including Mozart's Il Seraglio at the Salzburg Festival (1997 and 1998), Bizet's Carmen (1999), Gounod's Romeo and Juliet (2000), François Ribac's Who Is Crazy? (2002), and Kudsi Erguner's Gilgamesh (2003).
Abou Salem committed suicide on 1 October 2011 near his home in al-Tireh, Ramallah. The void created by his death led to a temporary decline in the activity of the Palestinian National Theater – El-Hakawati. However, the latter continues to nurture and honor its founder's memory and, more broadly, attests to a vibrant Palestinian and Arab culture. As the editors of the Jerusalem Quarterly wrote shortly after his death, "François Abu Salem was a Palestinian pioneer, a Jerusalemite in taste, sensibilities, and manners."
Sources
Al-Saber, Samer. "Permission to Perform: Palestinian Theatre in Jerusalem (1967–1993)," Ph.D. diss., University of Washington, 2013.
Al-Saber, Samer. "Surviving Censorship: El-Hakawati's Mahjoob Mahjoob and the Struggle for the Permission to Perform." In Patrick Duggan and Lisa Peschel (eds.), Performing (for) Survival. Theatre, Crisis, Extremity, 141–59. London: Palgrave Macmillan, 2016.
El Sakka, Abaher. "Le théâtre dans la société palestinienne." Horizons maghrébins-Le droit à la mémoire. Créations palestiniennes, 57 (2007): 49–57.
"François Abu Salem and Theater in Palestine" (Editorial). Jerusalem Quarterly 48 (Winter 2011): 3–5.
Nakhlé-Cerruti, Najla. L'individu au centre de la scène. Trois pièces palestiniennes. Beirut: Presses de l'Ifpo, 2020.
Nakhlé-Cerruti, Najla. La Palestine sur scène. Une expérience théâtrale palestinienne (2006–2016). Rennes: Presses Universitaires de Rennes, 2022.
Nassar, Hala. "Stories from under Occupation: Performing the Palestinian Experience." Theatre Journal 58, no.1 (2006): 15–37.
Snir, Reuven. "The Palestinian al-Hakawati Theater: A Brief History." The Arab Studies Journal 6/7, no.2–1 (Winter 1998/ Spring 1999): 57–71.
Snir, Reuven. Palestinian Theatre. Wiesbaden: Reichert, 2005.