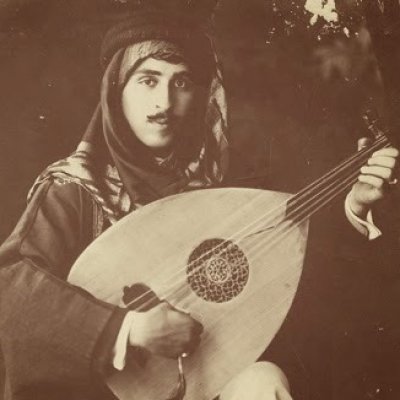 Wasif Jawhariyyeh
واصف جوهرية
Wasif Jawhariyyeh was born to two Jerusalemites, Helena Barakat and Jiryis (Jirjis) Jawhariyyeh. His father had been a member of the Jerusalem Municipal Council but had gone into private business in silk production (cultivating silkworms) and running a café on the Jarisha River. He was well known as a painter and manufacturer of icons.
Wasif Jawhariyyeh attended first the Lutheran school (at al-Dabbagha) and then the Constitutional School founded in 1909 by the celebrated man of letters Khalil al-Sakakini, and finally at St. George's School. His father encouraged him to study the Qur'an in order to improve his command of Arabic. He studied music with al-Shaykh Umar al-Batsh, of Aleppo, one of the most celebrated oud players of the Ottoman era.
Jawhariyyeh served in the Ottoman army during World War I in the Jerusalem Defense Regiment commanded by Amiralay (Colonel) Ali Roush Bey and in the Ottoman Navy on the Dead Sea ("As oud officer," as he once jokingly put it) under the command of Jemal Pasha. He also worked in the British administration as a clerk in the records office where he was responsible for the land tax section.
Jawhariyyeh played in several Jerusalem orchestras and in Radio Jerusalem orchestra. Following his forcible relocation to Lebanon from his home city in 1948, he also played on the Lebanese Radio station.
Jawhariyyeh's importance is best brought out in his memoirs (four volumes in manuscript form). To these he appended seven more volumes containing a photographic collection covering the social, political, and cultural daily life in Jerusalem during the late Ottoman period, British military rule (1917–21), and the Mandate period (1921–48). In a manuscript entitled al-Dafatir al-musiqiyya, he collected an entire inventory of popular music current in Palestine in the early twentieth century. He used a notation system that he devised to record tunes and words since he was unfamiliar with basic musical notation.
The Jawhariyyeh memoirs give evidence of early modernity in Jerusalem during the Ottoman and Mandate period. Jawhariyyeh recorded the tempo of everyday life with the eye of a hakawati (storyteller) and the ear of a popular musician. His close relations with the Husseini family, the Ottoman command in Jerusalem, and then with officialdom in the Mandate government allowed him, in describing the momentous events in Palestine, to move from the viewpoint of the ruling elite to that of the popular classes whose concerns he shared. He identified with these classes as he lived through these stirring and adventurous times. His memoirs can therefore be regarded as a very rich source of ethnographic information on daily life in Jerusalem in the first half of the twentieth century.
Wasif Jawhariyyeh died in Beirut in 1973.
Sources
جوهرية، واصف. "الدفاتر الموسيقية"– مخطوطة غير منشورة. رام الله: مؤسسة الدراسات الفلسطينية.
Tamari, Salim and Issam Nassar. The Storyteller of Jerusalem: The Life and Times of Wasif Jawhariyyeh, 1904–1948. Northampton, MA: Olive Branch Press and Beirut: Institute for Palestine Studies, 2014.