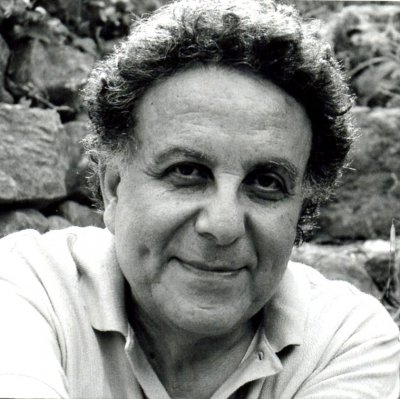 Kamal Boullata
كمال بُلّاطة
Kamal Boullata was born in Jerusalem. His mother was Burbara Ibrahim Atalla and his father was Yusuf Isa Boullata, both of whom were born in Jerusalem. Kamal has three brothers and two sisters: Isa, Renée, André, Jamil, and Su'ad. He is the youngest in his family. His wife is Lily Farhoud.
Boullata grew up in the Christian Quarter of the Old City, which fell under Jordanian rule after the Israeli occupation of West Jerusalem in 1948. He completed his elementary education at the Collège des Frères and his secondary education at the St. George's School; he graduated from it in 1960.
In the absence of an art school in Jerusalem, Boullata developed his artistic talent by himself. During the summer holidays his parents would send him to the workshop of Khalil al-Halabi (1889–1964), well known for his painting of icons, in the quarter where they lived. There, he learned the art of icon painting. But his real passion was to draw scenes from life and the street where he lived.  When he was still an adolescent, art collectors in the Jordanian diplomatic corps sought to acquire his watercolors, which he painted in their presence. The money he made selling his paintings at exhibitions in Jerusalem and Amman enabled him to travel to Italy where he spent four years (1961–65) studying art, graduating from Rome's Academia di Belle Arti, followed by three years (1968–71) at the Corcoran Art Museum School in Washington, DC.
In 1974 he interrupted his stay in Washington to go to Beirut where, for a short period, he was appointed art director of a publishing house, Dar al-fata al-'Arabi, a pioneering initiative by the Palestinian Planning Center in Beirut. As senior artist and member of the editorial board of that house, he designed all the basic templates of the various publications that appeared in later years.
Boullata has lived in the United States (1968–92), Morocco (1993–96), and France (1997–2012). In 2012–13 he was elected as Fellow of the Wissenschaftskolleg in Berlin, and he lived and worked with his wife in Germany.
Kamal Boullata died on 6 August 2019 in Berlin, Germany and was buried in his homeland at the Cemetery of the Greek Orthodox Patriarchate of Jerusalem at Mount Zion next to his family and ancestors.
His works are found in both private and public collections, including the British Museum; the Museum of the Alhambra in Granada; the Institut du Monde Arabe in Paris; the New York Public Library; the Bibliothèque Louis Notari in Monaco; the Zimmerli Art Museum in New Brunswick, NJ; and Jordan National Gallery of Fine Arts in Amman.
In 1993 and 1994, Boullata pursued field research on Islamic art in Morocco and Spain as a Fulbright Senior Scholar Fellow. In 2001, and with a grant from the Ford Foundation, he conducted field research on post-Byzantine painting in Palestine. 
Moroccan literary critic Abdelkebir Khatibi wrote in his introduction to the catalogue of Boullata's Surrat al-ard (Navel of the Earth) exhibition (Darat al-Funun, Amman, 1998): "Behind this passion for geometry lies the tradition of icon-painting, which forged the beginnings of his artistic training, a tradition that has maintained a venerable continuity between Byzantium and the Arabo-Islamic civilization of the Middle East. But Boullata does not content himself with exploring this double tradition, he displaces it, as an artist and as aesthetician."
José Miguel Puerta Vilchez, a Spanish professor of Arab aesthetics at Granada University, wrote in his introduction to the catalogue of Boullata's Bilqis exhibition (Meem Gallery, Dubai, 2014): "Appreciated internationally, these works were created using a selection of Arabic maxims and aphorisms extracted from Holy Scriptures and Sufi sources. … The issuing composition of geometric patterns fuses the verbal and the visual in a purely Arab art that is refreshingly modern."
Introducing Boullata's exhibition … And There Was Light (Berloni Gallery, London, 2015), British art critic Jean Fisher wrote: "Boullata's entire aesthetic output, visual and textual, reflects a lifetime devoted to resisting by subtle, non-violent but fiercely single-minded means, the forces that seek to extinguish the Palestinian spirit and its capacity for joy."  
Kamal Boullata's articles (in both Arabic and English) have appeared in exhibition catalogues, anthologies, and academic journals, including The Muslim World, Journal of Palestine Studies, Third Text, Cuadernos de Arte, Peuples Méditerranéens, Mundus Artium, and Michigan Quarterly Review. His works have been translated into French, German, Italian, Hebrew, and Spanish.
Selected Writings
"استحضار المكان: دراسات في الفن التشكيلي الفلسطيني المعاصر". تونس: المنظمة العربية للتربية والثقافة والعلوم، 2000.
[Recovery of Place: A Study of Contemporary Palestinian Art]
Faithful Witnesses: Palestinian Children Recreate Their World. Preface by John Berger. New York: Olive Branch Press, 1990.
Palestinian Art: From 1850 to the Present. Preface by John Berger. London: Saqi Books, 2008.
(editor). Women of the Fertile Crescent: Modern Poetry by Arab Women. Washington, DC: Three Continents Press, 1978. 
(co-edited with Mirène Ghossein). The World of Rashid Husain: A Palestinian Poet in Exile. Detroit: Association of Arab-American University Graduates, 1979.
(co-edited with Kathy Engel). We Begin Here: Poems for Palestine and Lebanon. Northhampton, MA: Interlink Books, 2007.
(editor). Belonging and Globalization: Critical Essays in Contemporary Art & Culture. London: Saqi, 2008. 
Sources
Makhoul, Bashir. "Kamal Boullata (1942–2019): Squaring the Circle." Journal of Palestine Studies xlix, no.2 (Winter 2020): 87-89.