Khirbat Umm Burj — خربة أم بُرْج
Distance from Hebron
17 km
Population
| Year | Arab | Total |
| --- | --- | --- |
| 1944/45 | 140 | 140 |
Land Ownership (1944/45) in dunums
| Year | Arab | Public | Total |
| --- | --- | --- | --- |
| 1944/45 | 13079 | 4 | 13083 |
Land Use (1944/45) in dunums
The village stood on a hilltop, overlooking a broad expanse of land in all four directions. Its name was probably derived from a tower that had been erected in the center of the site. Khirbat Umm Burj was described in the late nineteenth century as a ruined village with a central tower that was (erroneously?) thought to be recently built.

Its earlier name, which has not been preserved, may originally have contained the Greek word pyrgos ('tower'); Burj is an Arabization of this word. Two dirt paths gave the village access to a highway between Bayt Jibrin and Hebron and to another highway that ran from Bayt Jibrin northeast to the Jaffa-Jerusalem highway. Additional mountainous tracks linked it to the area's other villages, including Dayr Nakhkhas, Surif, and Nuba.
Khirbat Umm Burj, classified as a hamlet in the Mandate-era Palestine Index Gazetteer, stretched out in an east-west direction, and its houses were made of stone. Its residents, who were Muslims, obtained their drinking water from three wells on the northern tip of the site. Their chief economic activities were rainfed agriculture and animal husbandry. They cultivated grain and fruits such as olives and grapes. In 1944/45 a total of 3,546 dunums was allocated to cereals 28 dunums were irrigated or used for orchards. The village was originally an uninhabited khirba that contained walls, cisterns, caves, and rock carvings. There were at least twenty khirbas on village land, including Jamrura, perhaps to be identified with Gemmruris in Roman times. The ancient history of the site remains to be determined, but the presence of cisterns and a columbarium suggest a Roman habitation.
Khirbat Umm Burj was probably entered by Israeli forces in the third stage of Operation Yoav , on 28-29 October 1948. This stage was marked by 'panic flight' and 'some expulsions,' according to Israeli historian Benny Morris; there were also atrocities, notably at nearby al-Dawayima on 29 October. Despite these circumstances, some villagers apparently remained in their homes, for on 6 November, an Israeli unit was sent to 'expel refugees' in the area and found 150 villagers in Khirbat Umm Burj. Morris writes that the unit, a platoon from the Har'el Brigade (which had just occupied positions to the north), 'expelled about l00, apparently injuring some of them.' This raid, and others like it carried out between November 1948 and April 1949, aimed at 'clearing' areas along the front lines between Israeli- and Jordanian-held territory. The village eventually fell in close proximity to the armistice lines.

Nechusha, founded in 1982, is west of the site, on village lands.
The crumbled houses that remain are attached to each other. Their windows and doors are clearly visible, although the roofs and sections of the walls are gone . A large arch stands amidst these remnants of houses. A large deserted structure (which formerly housed an irrigation pump) stands at the foot of the hill, on the western side of the village. It has an entrance on its eastern side. A carob tree grows inside it, and a pool and a well are located nearby. One can see caves that had formerly been habitations on the northern and northeastern periphery of the site cactuses grow on its southern edge.
Related Content
Related Events
Violence
1948
15 October 1948 - 4 November 1948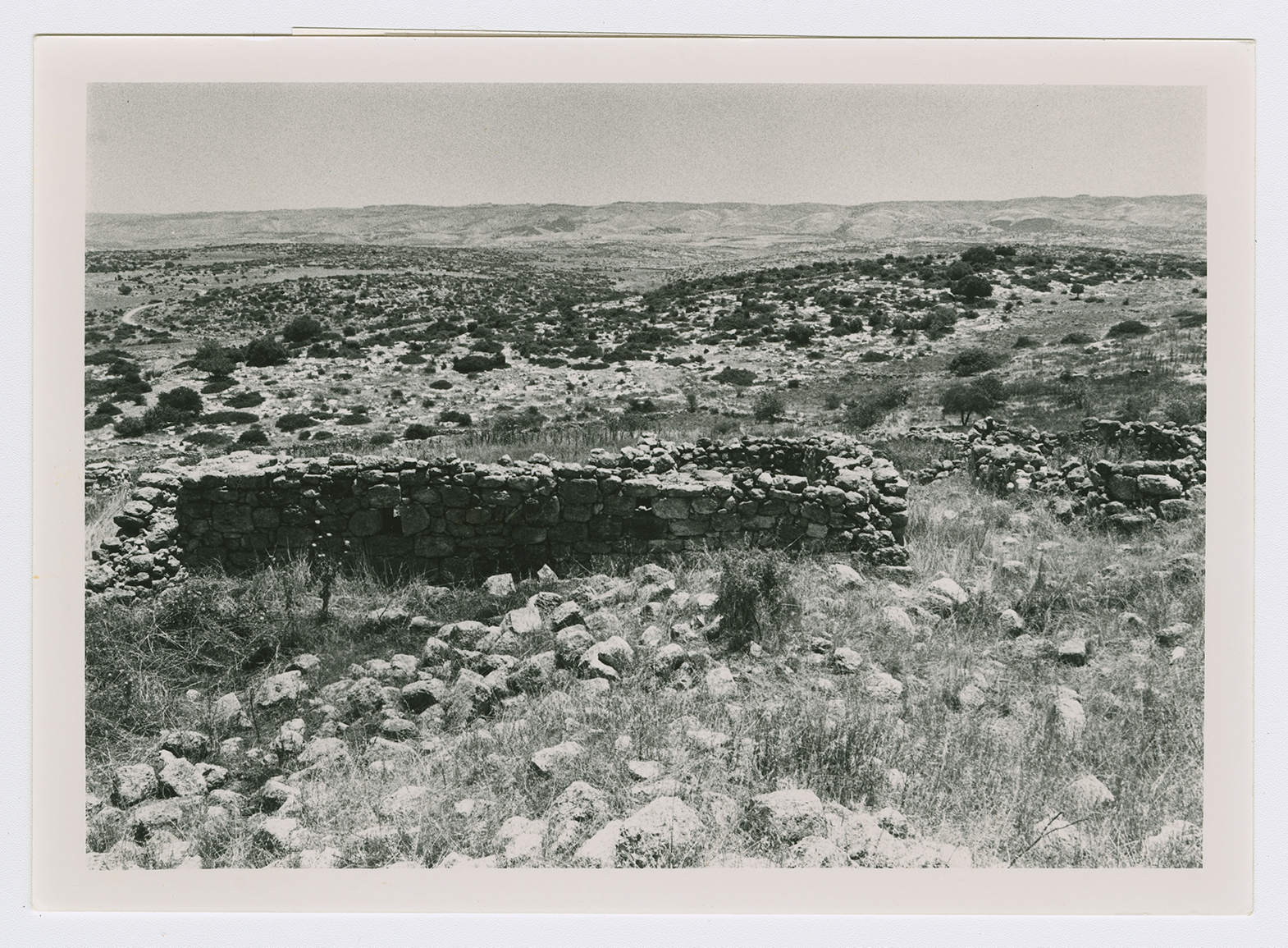 Khirbat Umm Burj (I)
View eastwards from the center of the village site.
June 1990
Photo by Hasan Hawari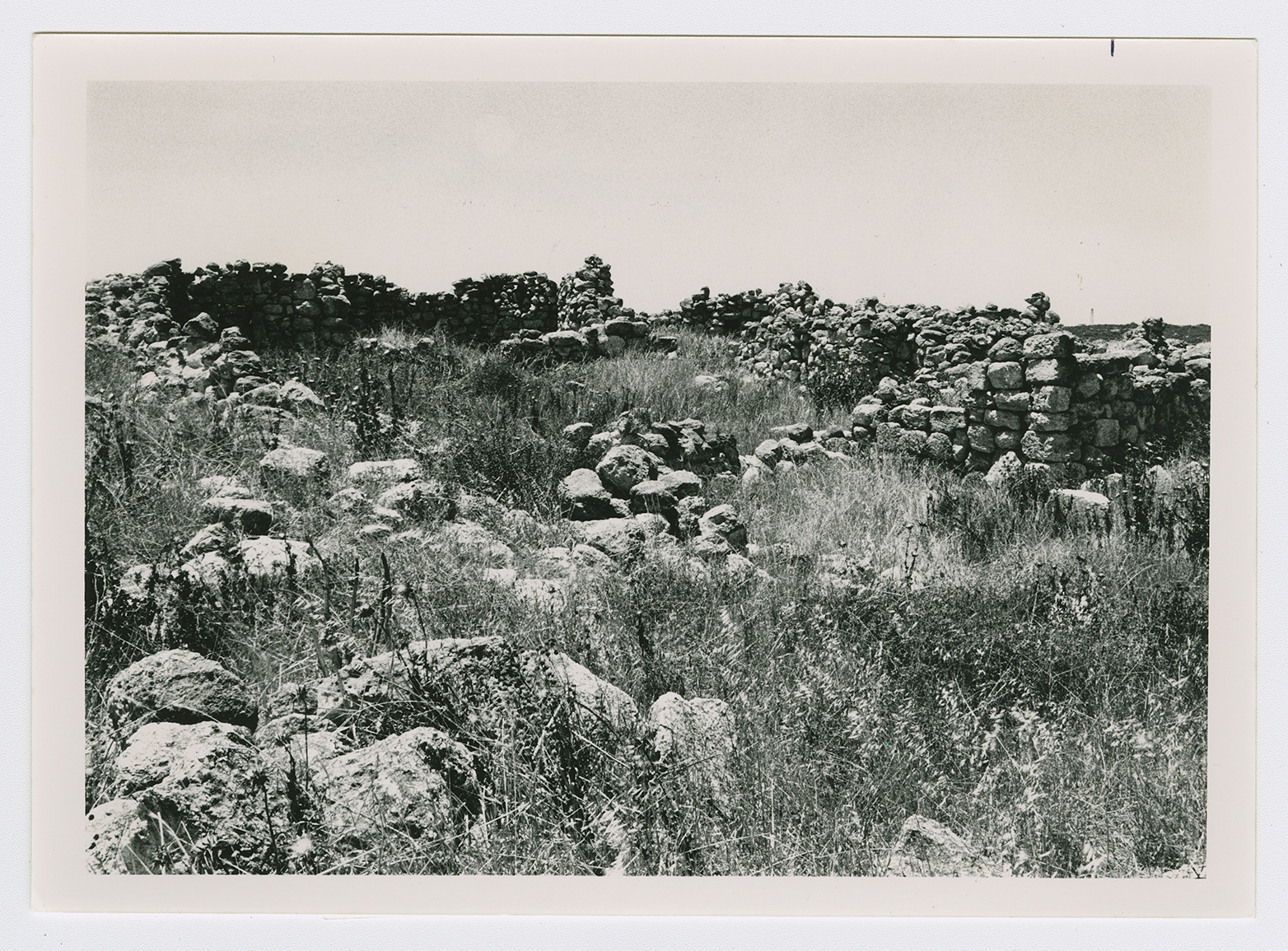 Khirbat Umm Burj (II)
The remains and rubble of houses in the center of the village site. View from north to south.
June 1990
Photo by Hasan Hawari
Khirbat Umm Burj (III)
A wall with an arched entrance.
June 1990
Photo by Hasan Hawari