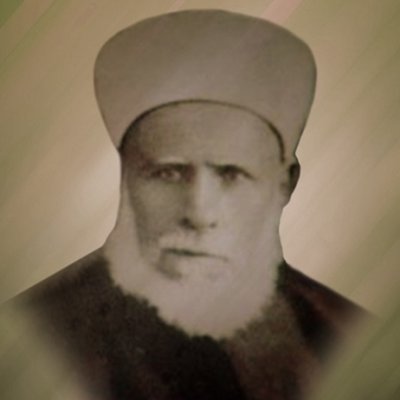 Sa'id al-Karmi
سعيد الكرمي
Sa'id al-Karmi was born in the city of Tulkarm to Ali Mansour al-Karmi. His family was known for its cultural work. He had seven sons: Mahmoud, Ahmad Shaker, Abd al-Karim, Hassan, Nabhan, Hussein, and Abdallah.
Karmi finished elementary school in Tulkarm, after which he was sent by his father to Cairo to study at Al-Azhar seminary. There he studied religion along with Arabic language and grammar, and he also attended gatherings and study circles hosted by prominent Muslim thinkers such as Jamal al-Din al-Afghani and Muhammad Abduh.
After earning his Alimiyya diploma from Al-Azhar, Karmi returned to Palestine and was appointed as an inspector for the school district of Tulkarm and later as a mufti in the same district.
When Arab nationalist activity grew after the restoration of the Ottoman Constitution of 1908, Shaykh Sa'id al-Karmi (as he was now called) joined the Ottoman Party for Administrative Decentralization, which had been founded in 1912 in Cairo by Levantine emigres. He became the party's regional leader for the Bani Saab district, which included both the cities of Tulkarm and Qalqiliya.
After the outbreak of World War I, the Ottoman authorities persecuted Arab nationalists in the Levant who called for an uprising against Ottoman rule. Karmi was one of several Syrian Arab nationalists rounded up by the military tribunal and sentenced to death in the city of Aley in 1915. The sentences were carried out on eleven of the men, who were executed at dawn on 21 August 1915; two others, Hafiz al-Sa'id and Sa'id Karmi, received a stay of execution because of their age. Their death sentences were then commuted to life imprisonment, and the two were jailed in the Damascus Citadel; Sa'id died there, while Karmi remained there for two years and seven months. Shaykh Abd al-Qadir Muzaffar interceded with the Ottoman authorities on Karmi's behalf, and he was pardoned in February 1918.
After his release from prison, Karmi stayed in Damascus for a while and then returned to Palestine. When the Arab government in Damascus was created in October 1918, Karmi was invited back to the Syrian capital; as someone who advocated for revitalizing the Arabic language and reforming it to make it the language of administration, he was appointed to the government's Translation and Drafting Division. He then became a member of the Board of Education, which became the Arab Scientific Academy on 8 June 1919. He attended the first Palestinian National Congress in 1919 and participated in some of the activities of the Palestinian national movement. 
Karmi worked with his colleagues to establish the Arab Academy on a firm foundation. When Muhammad Kurd Ali, the academy's president, was appointed Minister of Education, Karmi became the acting president for a period of two years, managing the work of the academy as well as managing the Archaeology Museum and the Zahiriyya library. He also supervised the publication of the academy's journal and served as the co-editor for its first two volumes (1921 and 1922). In 1921, the French Mandate authorities conferred upon him the Légion d'honneur with the rank of chevalier, in recognition of his work in the Arab Academy.
In March 1922 he decided to move to Amman. He continued as a corresponding member of the academy for both Transjordan and Palestine.
In Amman, Karmi was appointed Chief Justice in the Advisory Council (the council of ministers) and head of the Board of Education. He remained in Amman as Chief Justice until 1926. In the summer of 1923, along with a group of scholars and intellectuals, he took part in deliberations on ​​establishing an Arab Academy in Amman. The idea was presented to Prince Abdullah ibn al-Hussein, who approved it and assigned to Karmi the task of presiding over it. Prince Abdullah also recommended that a journal be founded named Majallat al-mujammaʿ al-ʿilmi fi-l-sharq al-Arabi [Journal of the Academy of the Arab East]. However, this group, which convened several times, did not last for long. In appreciation of Karmi's scholarly efforts, Prince Abdullah awarded him a medal.
In 1926, Sa'id al-Karmi returned to his birthplace and in his last years worked as a teacher in the Tulkarm mosque. He was held in esteem by both commoners and elite alike. He died in 1935 at the age of 83, after a life spent in both politics and scholarship. Karmi is considered one of the major figures of the Arab nahda, or renaissance, during the late Ottoman era. He was a theologian, a scholar of Sufism, a scholar of Arabic language, and an eloquent orator and poet. Yet he had a meager output as a writer; the volume of his published works is not commensurate with his scholarly and social stature, because of his engagement with political affairs and his preoccupation with the duties of his government positions.
Major Works
Among his major works is a treatise on Sufism titled Wadih al-burhan fi-l-radd ʿala ahl al-buhtan [Clear Substantiation in Response to the Adherents of Fabrication], published in 1875. His son Abd al-Karim published a book titled Shaykh Sa'id al-Karmi: A Scholarly and Political Biography and Selected Works, which included a considerable number of poems by him composed on diverse subjects.
Sources
Abdul Hadi, Mahdi, ed. Palestinian Personalities: A Biographic Dictionary. 2nd ed., rev. and updated. Jerusalem: Passia Publication, 2006.
حامد، أحمد. "الشيخ سعيد الكرمي". نابلس: مكتبة الجمعية العلمية، 1993.
الحوت، بيان نويهض. "القيادات والمؤسسات السياسية في فلسطين 1917-1948". بيروت: مؤسسة الدراسات الفلسطينية،1981.
الجندي، أدهم. "تحفة الزمن بترتيب أعلام الأدب والفن". دمشق: دار المقتبس، 2015 .
الزركلي، خير الدين. "الأعلام". بيروت: دار العلم للملايين، 2002.
العودات، يعقوب. من أعلام الفكر والأدب في فلسطين. عمان: د.ن.، 1976.                 
الكرمي، عبد الكريم. "الشيخ سعيد الكرمي: سيرته العلمية والسياسية، منتخبات من آثاره". دمشق: المطبعة التعاونية، 1973.
منّاع، عادل. "أعلام فلسطين في أواخر العهد العثماني (1800- 1918)". ط 2. بيروت: مؤسسة الدراسات الفلسطينية، 1995.
نويهض، عجاج. "رجال من فلسطين". بيروت: منشورات فلسطين المحتلة، 1981.