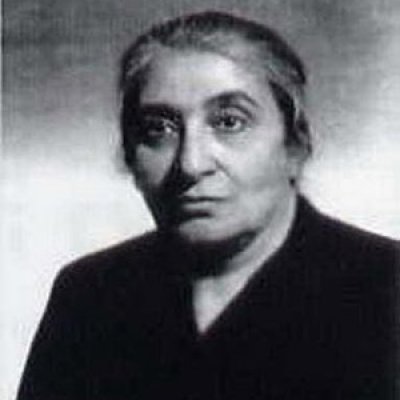 Birth of Kulthum Odeh in Nazareth
1892
Odeh Marries Ivan Vasiliev, a Russian Doctor
1912
During World War I, Odeh Joins the Red Cross, Studies Nursing, and Works as a Nurse in Serbia and Montenegro
1914 to 1918
Odeh Moves to Russia with Her Husband, Vasiliev
1914
Odeh's Husband, Vasiliev, Passes Away From an Illness
1917
Odeh Earns a Doctorate from Leningrad University for a Thesis on Arabic Dialects
1924 to 1928
Forced to Choose Her Place of Residency, Odeh Decides to Stay Permanently in the Soviet Union
1926
Odeh Visits Her Family and Friends in Palestine
1928
Odeh Is Arrested for the Third and Final Time during the Stalin Era
1939
Odeh Wins a Writing Competition Sponsored by an Egyptian Magazine on the Theme "How Can a Person Live a Happy Life?"
1947
Death of Kulthum Odeh in the Soviet Union
1965
Odeh Is Posthumously Awarded the Jerusalem Medal for Culture, Art, and Literature by the PLO
1990
Kulthum Odeh was born in Nazareth on 2 April 1892. Her father was Nasr Odeh and her husband was Ivan Vasiliev. She had three daughters: Larissa, Valeria, and Ludmilla.
Kulthum was the fifth daughter born to parents expecting the first boy, so her birth was a disappointment to the family. She was not considered to be good looking, so the thin dark girl grew up unable to remember any parental affection. Indeed, she recalled that her mother would often make fun of her looks.
She had no avenue of escape except study. Her mother opposed this strongly, but her father insisted on her education and sent her first to an elementary school run by the Palestinian-Russian Society. The young girl worked hard and her grades placed her at the top of her class. Regulations at that time gave the top female student the chance to complete her education, for free, in a boarding school. So she moved to the Russian Female Teachers College in Beit Jala where she continued to excel for seven more years and until graduation. She was particularly proud of the fact that Khalil al-Sakakini was her Arabic teacher.
She returned to Nazareth where she taught at the schools of the Palestinian-Russian Society. She also began to publish articles in magazines like al-Nafa'is al-'asriyya in Haifa, al-Hilal in Cairo, and al-Hasna' in Beirut.
During this period she met and fell in love with a Russian doctor, Ivan Vasiliev, who was in charge of the female students' health. Her parents would not permit this marriage. However, a relative and a wise Nazareth figure, Najib Odeh, accompanied her and the doctor to Jerusalem where the couple were married in the church in the Russian Quarter and then returned with the married couple to Nazareth. Her family accepted the fait accompli. The year was 1912.
The couple sailed to Russia in 1914, and their arrival coincided with the outbreak of World War I. She suffered greatly from the war and the intense cold. She quickly joined the Red Cross, studied nursing, and worked as a nurse in Serbia and Montenegro. She then moved with her husband to the Ukraine to combat the typhus epidemic. In 1917, her husband fell ill and soon died, leaving her to care for three daughters, the eldest 5 years old and the youngest an infant.
The years following her husband's death were hard, but she faced them with immense courage and determination. She not only overcame these difficulties but came to feel happy that she had succeeded in caring well for her young daughters and extending her care to others too, a source of even greater happiness. She described that period of her life when she participated in a competition announced by the Egyptian al-Hilal magazine in 1947, the subject of which was "How can a person live a happy life?" The judges included some of Egypt's most prominent writers and men of letters.
She won first prize in that competition even though her life was not happy in the conventional sense of the term. She described how her happiness manifested when she sought to alleviate the suffering of wounded soldiers during the war or when she undertook the hardest of tasks in order to support her young daughters. She had sown the land and followed the harvesters to gather the bales of wheat and fueled the threshing machines. She felt that her life was happy because she and her daughters never suffered from hunger or want, adding: "I never experienced material or psychological deprivation even during those times of great hunger and those terrible wars." True contentment came to her only when she had overcome obstacles, but the real cause of her happiness was her love for all people.
From the Ukraine she moved to Leningrad in 1924 where she once again met the prominent Russian orientalist Ignaty Krachkovsky. She had first met him when he visited her school in Nazareth; he was impressed by her talent as a teacher.  He thus arranged for her to join Leningrad University where, in 1928, she obtained a doctorate for a thesis on Arabic dialects. She continued to advance in academic rank until she attained the title of Professor, becoming the first Arab woman to reach that rank.
In 1926 the Soviet authorities gave her a hard choice: either to return to Palestine or to remain in the Soviet Union. If she chose to leave, she could not take her daughters with her since they were by law Soviet citizens. Otherwise she could stay and be granted Soviet citizenship. She decided to stay though she did visit Palestine in 1928 to see family and friends and was warmly received in every city she visited.
Odeh lectured at the Faculty of Oriental Languages and was a member of the Arabic Department of the Institute of Philosophy, the Arts and History. Following the opening of the Orientalism Institute in Moscow, she moved from Leningrad to Moscow to work at that Institute and also lectured at the Institute for International Relations and the Higher Diplomatic School.
During the Stalinist era, she was arrested three times (the last in 1939), but she was released without charge. She soon became the subject of great admiration by various Soviet groups, especially the political class. Thus, when the Nazis invaded the Soviet Union, she was among those transported to the interior in order to protect their lives.
She was the first woman member of the Society of Soviet Cultural Relations with the Arab countries.
She was a firm believer in the ability of literature to reach all human hearts and so began to translate Soviet literature into Arabic before the end of World War II and then translated Arabic literature into Russian. She was a major contributor in the building of cultural bridges between Russia and the Arab world and in introducing Russian culture to the Arabs. She published scores of articles and short stories in Russian journals and newspapers.
On her seventieth birthday she was awarded the Medal of Honor and the Medal of Friendship Among Nations, the highest awards that Soviet authorities granted to individuals who contributed to friendship between the Soviet and foreign peoples.
The PLO posthumously awarded her the Jerusalem Medal for Culture, Arts and Literature in January 1990 in recognition of her cultural and political role in Russia.
She died on 24 April 1965. Her funeral was attended by a large crowd of academics, scientists, students, and peasants and also by ministers and officials who were her former students. She was buried in a cemetery near Moscow reserved for men of letters and scientists.
Selected Works
"المنتخبات العصرية لدرس الآداب العربية". مع مقدمة لأغناطيوس كراتشكوفسكي. ليننغراد: 1928 ـ 1929، جزءان.
[Modern Selections for the Study of Arabic Literature]
Translations
كراتشكوفسكي، أغناطيوس. "حياة الشيخ محمد عياد الطنطاوي". ترجمته من الروسية كلثوم عودة. القاهرة: المجلس الأعلى لرعاية الفنون والآداب، 1964.
[The Life of Shaykh Muhammad Ayyad al-Tantawi]. Translated from Russian to Arabic.
She translated the following works from Arabic into Russian: Land, Hand and Water by the Iraqi writer Dhu'l Nun Ayyub; and the collections Stories of Arab Authors (1955), Egyptian Tales (1956), Stories of Syrian Authors (1958), Stories of Lebanese Authors (1958), and The Contemporary Arab Novel.
Sources
الخطيب، حسام. "حركة الترجمة في القرن العشرين حتى عام 1985". "الموسوعة الفلسطينية"، القسم الثاني - الدراسات الخاصة، المجلد الرابع،  دراسات الحضارة. بيروت: هيئة الموسوعة الفلسطينية،  1990.
طوبي، أسمى. "عبير ومجد".  بيروت: مطبعة قلفاط ، 1966.
لوباني، حسين علي. "معجم أعلام فلسطين في العلوم والفنون والآداب". بيروت: مكتبة لبنان ناشرون، 2012 .