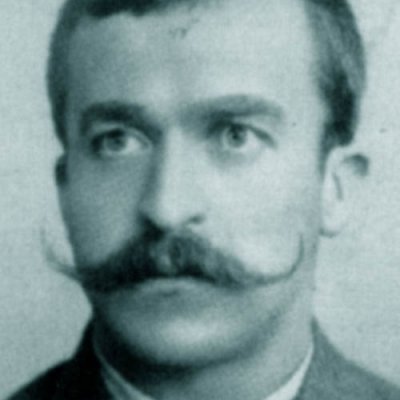 Khalil al-Sakakini
خليل السكاكيني
23 January 1878,
Jerusalem
Khalil al-Sakakini was born in Jerusalem, the son of Qustandi al-Sakakini and Mariam Harami. He had two sisters, Milia and Froso, and two brothers, Ya'qub and Yusuf. He and his wife, Sultana Abdu, had a son, Sari, and two daughters, Hala and Dumia.
He received his elementary school education at the Greek Orthodox school in Jerusalem and the Anglican missionary school (C.M.S.). Following several years at the Zion School (Bishop Gobat's School), he enrolled in the Shabab College (later renamed the English College), where his teacher was the distinguished Arabist and educator Nakhla Zurayq.
Graduating in 1893, Sakakini became a teacher and in 1898 joined the Zahrat al-Adab Society.
In October 1907, Sakakini travelled to the United States where he worked as a teacher of Arabic, translator, shop salesman in New York, and then as a factory worker in Rumford Falls, Maine. He also wrote a number of articles in Arabic for a journal called al-Jami'a, published by Farah Antun.
At the end of summer 1908, Sakakini returned to Jerusalem and worked as copyeditor for the magazine al-Asma'i and al-Quds newspaper. He also taught Arabic at the American Colony School in Jerusalem and began to offer private lessons in Arabic to a number of foreigners.
Following the Young Turk Revolution of July 1908 in Istanbul, Sakakini briefly became a member of the Committee of Union and Progress and of the Executive Committee of the Jerusalem branch of the Arab-Ottoman Brotherhood Association . At about the same time, he engaged in a struggle to Arabize the Orthodox Church in Palestine and to end the dominance of Greek Patriarchate officials over it.
In 1909, Sakakini cofounded the Dusturiyya School, which admitted students of all religions and sects and followed the latest scientific and secular educational methods.
In the winter of 1914, Sakakini was appointed a member of the educational council of the Jerusalem province. His job was to oversee the appointment, transfer, and dismissal of teachers. He sought to reform the corps of teachers and the curriculum. He was then appointed as teacher of Arabic at the Salahiyya School in Jerusalem.
In December 1917, the Ottoman authorities arrested him for giving refuge in his house to an illegal Jewish immigrant. He was taken to Damascus where he was held at the al-Jami' al-Mu'allaq Prison in the Bab al-Jabiya quarter and was finally released on 10 January 1918.
Following his release, Sakakini began to give private lessons in English to some students in Damascus. In August 1918, he travelled secretly to Aqaba to join Emir Faisal, who was leading the forces of the Arab revolution against Ottoman rule and was preparing to enter Damascus.
In late summer 1918, Sakakini moved to Cairo and stayed there for a few months. Returning to Jerusalem in 1919, he was appointed in the Department of Education. In October of that year, he was appointed head of Teachers College and began to take an active part in the Palestinian nationalist movement.
When British High Commissioner Herbert Samuel (known for his Zionist sympathies) assumed his post in Palestine, Sakakini decided to resign his official post in Teachers College and in the summer of 1920 travelled to Cairo to work as head of the Arabic department of the Ubaydiyya School, run by the Syrian Orthodox Society.
He returned to Jerusalem in 1922 and practiced journalism where he published his articles in Egyptian journals like al-Muqtataf and al-Hilal.
Sakakini took part in the Fifth Palestinian National Congress held in Nablus in August 1922, and in 1923 and 1924 was chosen as Secretary of the Arab Executive Committee.
In 1925, Sakakini once again joined the Department of Education as Inspector-General of the Arabic Language and that same year was elected a member of the Arab Academy in Damascus.
At the Seventh Palestinian Arab Conference held in Jerusalem in June 1928, he spoke vigorously against the surreptitious attempts by the British authorities to cause religious dissension, and in 1931 he occupied the post of head of the bureau of the Arab Executive Committee.
In 1936 he worked at the Palestine Broadcasting Service, which was run by the British Mandate and began its broadcasts from Jerusalem that year, but he soon resigned when he heard the Jewish announcer begin by announcing in Hebrew: "This is the land of Israel."
In 1938, Sakakini reached the age of retirement and in that year he founded Nahda College in Jerusalem, which he continued to administer until the Nakba of Palestine in 1948.
In late April 1948, he was forced to abandon his house in the Arab neighborhood of Qatamon, in Jerusalem, when Zionist forces attacked that area. Sakakini sought refuge in Egypt where he had been elected a member of the Academy of Arabic Language of Cairo, upon the recommendation of the celebrated man of letters, Taha Hussein. He then began to write for several Egyptian newspapers and magazines.
Sakakini experienced two deaths in his family that shook him to his core. In 1939, he suffered grievously at the death of his wife, whom he loved very deeply. In May 1953, his son Sari died as a result of an incurable disease. He could not bear that blow and died three months later. He was buried in the St. George Orthodox cemetery in Cairo.
Sakakini was a liberal and secular educator and intellectual, a man of great self-respect, steadfast in his principles, with wide horizons of thought and learning and a biting wit. He was known for his deep humanism and his passion for the Arabic language. He was an Arab patriot who defied the British occupation of Palestine and recognized the danger to his homeland of the Zionist project and tirelessly advocated resisting it. The Nahda College which he founded became one of the most prominent nationalist and secular educational institutions in Palestine.
Selected Works
"فلسطين بعد الحرب الكبرى". القدس: مطبعة بيت المقدس، 1925.
[Palestine after the Great War]
"سري". القدس: المطبعة التجارية، 1935.
[Sari]
"ما تيسر"، الجزء 1 و 2. القدس: المطبعة العصرية، 1943 و1946.
[What Is at Hand]
"الأصول في تعليم اللغة العربية". القاهرة: مطبعة الاعتماد، 1952.
[The Principles of Teaching the Arabic Language]
"كذا أنا يا دنيا". القدس: المطبعة التجارية، 1955.
[This Is How I Am, O World]
"يوميات، رسائل، تأملات [1907-1952]" في ثمانية كتب، تحرير أكرم مسلم. رام الله: مركز خليل السكاكيني الثقافي ومؤسسة الدراسات المقدسية، 2003-2010.
[Diary, Letters, Reflections, 1907–52]
Sources
الأسعد،  فوزي. "خليل السكاكيني 1878-1947". نابلس: مكتبة الجمعية العلمية، 1994.
حداد، يوسف أيوب. "خليل السكاكيني: حياته، مواقفه وآثاره". بيروت: الاتحاد العام للكتاب والصحفيين الفلسطينيين، 1981.
ديكان-واصف، سارة. "معجم الكتّاب الفلسطينيين". باريس: معهد العالم العربي، 1999.
شاهين، أحمد عمر. "موسوعة كتّاب فلسطين في القرن العشرين"، الجزء الأول. دمشق: المركز القومي للدراسات والتوثيق، 1992.
الشنطي، عصام محمد. "خليل السكاكيني اللغوي". القاهرة: معهد البحوث والدراسات العربية، 1967.
صالح، جهاد أحمد. "الرواد المقدسيون في الحياة الفكرية والأدبية في فلسطين"، ط. 2، الجزء الأول. رام الله: الاتحاد العام للكتاب والأدباء الفلسطينيين، آذار 2011.
صبري، بهجت، "خليل السكاكيني مؤرخاً". في نواف عبد حسن (إعداد). "خليل السكاكيني بين الوفاء والذكرى". الطيبة [فلسطين]: مركز إحياء التراث العربي، 1991، ص 94-111.
العودات، يعقوب. "من أعلام الفكر والأدب في فلسطين". عمان: د. ن، 1976.
لوباني، حسين علي. "معجم أعلام فلسطين في العلوم والفنون والآداب". بيروت: مكتبة لبنان ناشرون، 2012.
الناعوري، عيسى. "خليل السكاكيني أديباً ومربياً". عمان: منشورات دار الكرمل-صامد، 1985.
نويهض، عجاج. "رجال من فلسطين". بيروت: منشورات فلسطين المحتلة، 1981.
Abdul Hadi, Mahdi, ed. Palestinian Personalities: A Biographic Dictionary. 2nd ed., revised and updated. Jerusalem: Passia Publication, 2006.  
Descamps-Wassif, Sara. Dictionnaire des écrivains palestiniens. Paris: Institut du monde arabe, 1999.