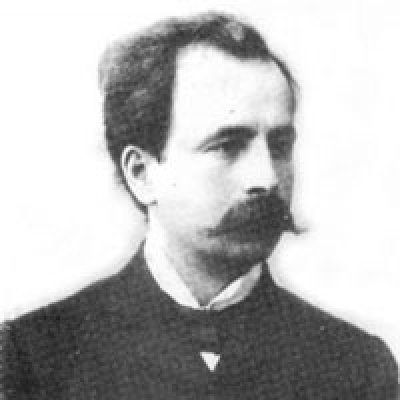 Bendali Saliba al-Jawzi
بندلي صليبا الجوزي
Bendali Saliba al-Jawzi was born in Jerusalem. He had three sisters, Mariam, Katrina, and Helaneh, and two brothers, Qustandi and Saliba. He married Liudmilla Lornichevna Zueva and had three sons, Vladimir, Georgy, and Boris, and four daughters, Anastasia, Alexandra, Tamara, and Olga.
Bendali al-Jawzi completed his primary and secondary education at the Orthodox Deir al-Musalliba College in Jerusalem and then continued his education at the Orthodox boarding school in Bkaftin, north Lebanon.
In 1891 he obtained a church scholarship to study theology at the Religious Academy in Moscow but later decided to discontinue these studies. In 1895 he moved to the Kazan Academy where in 1899 he obtained an MA degree in the Arabic language and Islamic studies. The title of his thesis was "The Mu'tazila: Historical and Theological Research in Islam."
In 1900 he returned to Palestine intending to settle but the Ottoman authorities forced him to leave his homeland and return to Russia where he worked as an assistant lecturer of Arabic and Islamic studies at the University of Kazan.
In 1909 he visited Palestine and Greater Syria with a number of Russian students on an academic mission that lasted one year. During that visit he met several men of letters including Isaaf al-Nashashibi, Jamil al-Khalidi, and Khalil al-Sakakini. In Beirut he met the Russian orientalist Ignaty Krachkovsky who had devoted his life to the study of Arabic literature.
Between 1911 and 1917, Jawzi worked as assistant lecturer in Arabic and Islamic studies at the Faculty of Law of Kazan University. He then moved to the Faculty of History and Literature of the same university. He remained there until 1920, when he and his family moved to Baku to work at the State University of Baku. He taught Arabic language and literature at the Oriental Faculty and later he became dean of that faculty.
In 1921 Jawzi had obtained a doctorate in Arabic language and literature and visited Iran that same year on a scientific mission. He brought back a number of Arabic and Persian manuscripts, which he presented to the university library.
In 1928 he visited Palestine where he delivered several lectures on history and on the intellectual movements among Arabs and Muslims. He also took part in the seventh Palestinian National Congress held in June of that year and was elected to the Arab Executive Committee elected at that conference.
In 1930, Bendali al-Jawzi was appointed chairman of the Arabic Department of Baku University, and in 1931 the scientific council of that university awarded him an honorary doctorate in Arabic language and literature.
He returned to Palestine once again in 1930 to deliver a series of lectures on sociological and philosophical subjects in several Palestinian cities. He also visited Cairo with his two friends Khalil al-Sakakini and Adil Jabr, and met with a warm welcome from Egyptian intellectuals.
In 1932 Jawzi was diagnosed with heart disease, which stopped him from working until 1937. In 1938 he became head of the Arabic Department at the Baku branch of the Academy of Sciences and wrote more than fifty articles for the Azerbaijan encyclopedia. Shortly thereafter, he was placed on retirement.
Bendali al-Jawzi was an Arab historian, linguist, academic authority, and a prominent orientalist and Semitist in Russia. Orientalists in Russia knew him as "Pandali" and considered him a distinguished authority even as he challenged their views. He mastered several ancient and modern languages and wrote and translated about twenty-six works. He also left nine manuscripts in Russian and two in Arabic. He further published a large number of articles in Lebanese journals like Al Athar and Al-Kulliyya and in Egyptian journals like Al-Hilal, Al-Muqtataf, and al-Rabita al-Sharqiyya.
Bendali al-Jawzi died in Baku in early 1942 and was buried in that city. 
Selected Works                                                     
    Selected Works in Arabic
"من تاريخ الحركات الفكرية في الاسلام". القدس: مطبعة بيت المقدس، 1928.
[A History of Intellectual Movements in Islam]
    Selected Works in Russian
"المعتزلة: البحث الكلامي التاريخي في الاسلام". قازان، 1899 .
[The Mu'tazila; Historical and Theological Research in Islam]
"جبل لبنان، تاريخه وحالته الحاضرة ". قازان، 1914.
[Mount Lebanon; Its Past and Present]
"المسلمون في روسيا ومستقبلهم ": قازان، 1917.
[Muslims in Russia and their Future]
"أصل سكان سوريا وفلسطين المسيحيين": قازان، 1917.
[The Origins of the Christians of Syria and Palestine]
"العلاقات الإنكليزية- المصرية": باكو، 1930.
[Anglo-Egyptian Relations]
"المصطلحات العلمية عند العرب المعاصرين". باكو، 1930.
[Scientific Expressions in Modern Arabic]
    Translation from German to Arabic
"الأمومة عند العرب". قازان: مطبعة دومبراوسكي، 1902.
[Matriarchy among the Arabs]
[Translation of G.A. Wilkens Das Matriarchat (Das Mutterrecht) bei den Alten Arabern. Leipzig: Otto Schulze, 1884]
"أمراء غسان من آل جفنة" (بالاشتراك مع قسطنطين زريق). بيروت: المطبعة الكاثوليكية، 1933.
[The Princes of Ghassan from the House of Jifna]
[Translation with Constantine Zuraik of Theodor Nöldeke. Die Ghassanischen Fürsten aus dem Hause Gafna's. Berlin: Akademie der Wissenschaften 1887]
Sources
أبو خليل، شوقي. "بندلي الجوزي: عصره، حياته، آثاره". بيروت: دار الفكر المعاصر؛ دمشق: دار الفكر، 1993.
الحوت، بيان نويهض. "القيادات والمؤسسات السياسية في فلسطين 1917- 1948". بيروت: مؤسسة الدراسات الفلسطينية، 1981.
السيد، جلال. "بندلي الجوزي كاتب من فلسطين". بيروت: دار المبتدأ للطباعة والنشر، 1993.
السيد، جلال وناجي علوش، (جمع وتقديم). "بندلي صليبا الجوزي: دراسات في اللغة والتاريخ الاقتصادي والاجتماعي عند العرب". بيروت: دار الطليعة، اتحاد الكتاب والصحفيين الفلسطينيين، 1977.
عبد الأحد، يوسف (إعداد). "بندلي الجوزي 1871- 1942، أنستاسيا الجوزي 1905- 1981". نابلس: الدار الوطنية للترجمة والطباعة والنشر، 1996.
العودات، يعقوب. "من أعلام الفكر والأدب في فلسطين". عمان: د. ن.، 1976.
مناع، عادل. "أعلام فلسطين في أواخر العهد العثماني 1800- 1918". ط 2. بيروت: مؤسسة الدراسات الفلسطينية، 1995.