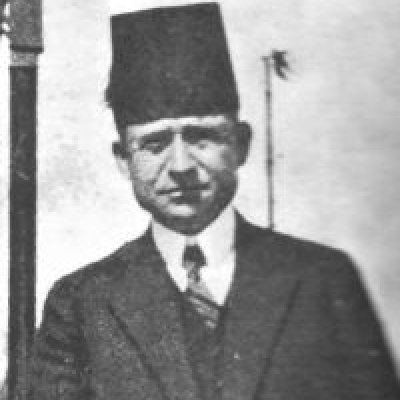 Isaaf al-Nashashibi
إسعاف النشاشيبي
Isaaf al-Nashashibi was born in Jerusalem. His father, Uthman, was a deputy of the Ottoman Parliament and a wealthy Jerusalem notable. His mother was Fatima Abu Ghawsh. He had a sister, Kawthar, and a half-brother, Dirar.
He was enrolled in the traditional primary school (kuttab) in Jerusalem and then at the Collège des Frères. His father then decided to send him to the Dar al-Hikma College in Beirut where he learned French and studied with some of its most distinguished teachers, including Shaykh Abdullah al-Bustani, Shaykh Muhyiddin al-Khayyat, and Shaykh Mustafa al-Ghalayini.
Graduating in 1905, he returned to Jerusalem where, following the proclamation of the 1908 Constitution, he briefly edited the journal al-Asma'i published by Hanna al-Isa. Then he began publishing articles in the magazine al-Nafa'is owned by Khalil Baidas and the magazine al-Manhal owned by Muhammad Musa al-Maghribi.
During that period, Nashashibi composed a lot of poetry, most of which he published in al-Nafa'is, and he developed a deep interest in classical Arabic literature and in western philosophy.
Before the end of World War I, Nashashibi became a professor of Arabic language in the Salahiyya College in Jerusalem.
Following the British occupation, he took part in the activities of the Arab Club (al-Nadi al-Arabi), which worked to promote an independent Palestine and was appointed professor of Arabic at the Rashidiyya Secondary School, then principal of that school, and then Inspector General of Arabic in the Public Education Department where he supervised the drawing up of curricula for the study of Arabic and supervised its teachers. He was also charged with supervising the teaching of Islam.
In 1923, Nashashibi was elected a member of the Arab Academy in Damascus (al-Majma' al-'Ilmi al-'Arabi) and began to write articles for the academy's journal the following year.
In 1929, Nashashibi resigned from his government job following increasing friction between him and the British Department of Education, and devoted himself to writing and lecturing. He went on annual trips to Egypt and al-Sham.
He attended the General Islamic Conference (held in Jerusalem between 7 and 17 December 1931) as a delegate from Jerusalem, and he was elected secretary of that conference's Committee for Guidance. He also took part in the activities of the Arab National Conference, held on 13 December 1931, from which emerged the Palestinian Arab Independence Party (Hizb al-Istiqlal).
From 1937 until 1947 he published a series of articles in the Cairo journal al-Risala under the title Nuql al-Adib ("Table-Talk of a Man of Letters"), which gained him an extensive reputation throughout the Arab world. He would often sign these articles using pseudonyms such as "A Reader" or "al-Sahmi" or "Hashim al-Arabi."
In 1947 he moved to Cairo and lived in the Continental Hotel, which soon became a meeting place for scholars, men of letters, and others who sought his company. That same year he was awarded the Golden Merit Medal by the Lebanese government in recognition of his contributions to the revival of the Arabic language. In 1948 thieves plundered his very valuable library in Jerusalem after most of the city had been occupied by Zionist forces.
Isaaf al-Nashashibi was the dean of Palestine's men of letters. He thoroughly deserved his title of Adib al-'Arabiyya (the foremost Arabic scholar). He defended the use of fusha (classical Arabic) and attacked the advocates of colloquial. In the Introduction to his book al-Bustan, he wrote: "The language is the nation and the nation is language. When the first weakens the second will weaken too and when the second dies the first will die also." Khalil al-Sakakini described him as "the Lisan al-'Arab dictionary walking on two legs." He was a man of immense learning, eloquent, quick-witted, amiable in disposition, with an upright and generous nature. He believed in modern science and its importance for the progress of humankind.
Isaaf al-Nashashibi died in Cairo on 22 January 1948 and was buried in the cemetery of Abd al-Qadir Bey Mukhtar, following a grand funeral. Some of Egypt's most celebrated men of letters and thinkers eulogized him, including Ahmad Lutfi al-Sayyid and Ahmad Hasan al-Zayyat.  Zayyat described him as follows: "Nashashibi was the last of a generation of distinguished men of letters and linguists whose like this modern era with its nature and culture cannot hope to reproduce. It is therefore incumbent upon those who concern themselves with our noble heritage and pride themselves on our glorious past, to mourn him for a long time and to feel despondent about Arabism and Arabic hereafter."
In January 1990, the Palestine Liberation Organization posthumously awarded him the Jerusalem Medal for Culture, Arts and Literature.
Selected Works
"أمثال أبي تمام". مجلة "النفائس"، 1912.
[The Proverbs of Abu Tammam]
"مجموعة النشاشيبي". القاهرة: المكتبة السلفية، 1341 هـ.
[The Nashashibi Collection]
"قلب عربي وعقل أوروبي". القدس: مطبعة بيت المقدس، 1924.
[An Arab Heart and a European Mind]
"نقل الأديب". بيروت: دار الريحاني للطباعة والنشر، د. ت.
[Table-Talk of a Man of Letters]
"كلمة في اللغة العربية". القدس: مطبعة بيت المقدس، 1925.
[A Few Words regarding the Arabic Language]
"البستان". القاهرة: مطبعة المعارف بمصر، 1346 هـ.
[The Garden]
Sources
أبو عليان، ياسر (وآخرون). "أبحاث عن أديب العربية محمد إسعاف النشاشيبي: عصره، حياته، أدبه وفكره". القدس: مركز الأبحاث الإسلامية، مؤسسة دار الطفل العربي، 1987.
الحسيني، اسحق موسى. "أديب العربية محمد إسعاف النشاشيبي". القدس: مركز الأبحاث الإسلامية، مؤسسة دار الطفل العربي، 1987.
الحوت، بيان نويهض. "القيادات والمؤسسات السياسية في فلسطين 1917- 1948". بيروت: مؤسسة الدراسات الفلسطينية، 1981.
زيادة، نقولا. "الأعمال الكاملة، أعلام عرب". بيروت: الأهلية للنشر والتوزيع، 2002، ص 299- 302.
شاهين، أحمد عمر. "محمد إسعاف النشاشيبي أديب العربية". بيروت: دار المبتدأ للطباعة والنشر، 1992.
العودات، يعقوب. "من أعلام الفكر والأدب في فلسطين". عمّان: د. ن.، 1976.
نويهض، عجاج. "رجال من فلسطين". بيروت: منشورات فلسطين المحتلة، 1981.