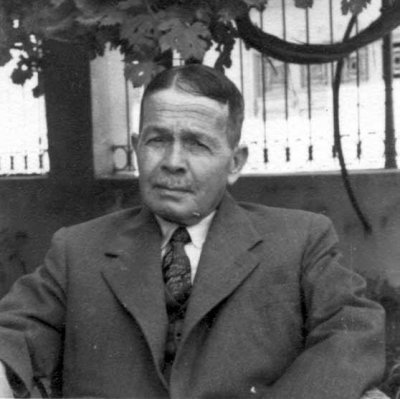 Adil Jabir
عادل جبر
19 December 1953,
Jericho
Adil Jabir was the eldest child of Aref Adil Jabir and Zakia Abdullah al-Imam, the great grand-daughter of Ahmad al-Jazzar. He has six siblings: Farid, Zaher, Jamil, Hilmi, Zahiyya, and Safa. He was born in the city of Jaffa. He was married to Marie (Mannana) al-Sidawi, a Christian, the director of the Islamiyya School in Jerusalem, and has two sons Daoud and Afif and one daughter Zakia. His father owned 100 dunums (25 acres) of orange groves in Yibna, 20 kilometers south of Jaffa. He received his primary education at the school run by Shaykh Ahmad al-Saʿati in Jaffa. After this he joined the Rushdiyya School, and then finished his secondary education in 1905 at the Collége des Frères de la Salle in Jaffa. He then went to Istanbul and joined the French Institute of Commerce. After completing his studies there, he moved to Switzerland to enroll in the University of Geneva and would come back to Jerusalem to spend his summer vacations.
On the eve of the restoration of the Ottoman constitution in 1906, Jabir and Martin Alonzo founded the first newspaper in Jaffa, al-Taraqqi [Progress], but it remained in print for only six months. In 1912, the ruler of Marrakech, Moulay Abdel Hafiz, came to Jerusalem after he abdicated his throne to his brother, with the intention of continuing on to Mecca to perform hajj. While in Jerusalem, he met Jabir, who happened to be there on vacation at the time and who also spoke French fluently, and so he asked him to be his personal secretary on his journey to the Hijaz. When they had completed all the hajj rites, the Moulay asked Jabir to return with him to Morocco. There he offered him a job, a generous salary, and a mansion to live in. However, Jabir declined, preferring to return to Palestine.
Jabir returned to Jerusalem after completing his studies in social sciences and economics from the University of Geneva. He was appointed as a teacher at the Dusturiyya School, which was founded and directed by his friend, the educator Khalil al-Sakakini, and which remained open until the early days of World War I. Jabir was also appointed as a teacher in the Salahiyya School run by Shaykh Abdel Aziz Gawish, one of the pioneers of [religious] reform and the struggle for national liberation in Egypt.
In Jerusalem, Jabir joined the Arts' Association (Jamʿiyyat al-funun), founded by Daoud al-Sidawi, which had started to hold town hall-style meetings in homes and local clubs, where speakers called for rejecting sectarianism by strengthening the sense of fraternal ties among Palestinians, spreading nationalist teachings and the emancipation of women.
After the British occupied Palestine, Jabir briefly took charge of running the government Teacher Training College (Dar al-Muʿallimin). From 1918 to 1921, he was also appointed Assistant Head of the Department of Education. During that period, he also began to publish articles in the daily newspaper Lisan al-ʿArab [The Arab Language] that was based in Jerusalem and published by Ibrahim Salim al-Najjar. He translated from French a chapter on national identity [from a book] by the (Zionist) writer Max Nordau and published it in installments in Lisan al-Hal between March and April 1922 under the title Ruh al-qawmiyya ("The Spirit of Nationalism").
After he resigned from the Department of Education, the Supreme Moslem Council appointed Jabir as director of the al-Aqsa Mosque Library and Museum, which were inaugurated in 1923. Thanks to his efforts, it was well organized and well cataloged. By request of the Council, he composed a pamphlet for tourists visiting the Ibrahimi Mosque in the city of Hebron. In 1921 Jabir had participated in the Antiquities conference held in Cairo, and he took part in the following conference in 1924.
In 1923, Jabir took was hired as a professor of economics and political science at the Palestinian Law Classes that had been established by the British Mandate authorities in Jerusalem that year, and which offered a three-year program of study.
In 1930, Jabir founded the daily newspaper al-Hayat in partnership with Khair al-Din al-Zirikli and Khaled al-Duzdar, but it lasted for less than two years. Then, from 1935 to 1937, he served on the editorial board of the weekly magazine al-Iqtisadiyyat al-ʿArabiyya [Arab Economics], along with Fuad Saba in Jerusalem.
During World War II, Jabir gave radio lectures on literary and scholarly subjects on the Palestine Broadcasting Service headquartered in Jerusalem, whose Arabic department was headed by his friend Ajaj Nuwayhed. He had an extensive personal library at his home in the Baqʿa neighborhood, with the finest and most valuable titles; it was considered one of the largest private libraries in West Jerusalem, along with those of Nuwayhed, Khalil Baidas, and Khalil al-Sakakini. These private libraries were seized by Zionist forces after they occupied the city.
Adil Jabir was forcibly driven from his home during the Nakba in 1948. He headed to Cairo, Egypt, where he was invited to join the Academy of the Arabic Language alongside his friend Khalil al-Sakakini. In September 1951, he moved to Jordan, where he was appointed to the Jordanian Senate. After falling ill, Jabir decided to move to Jericho, to escape the harsh Amman winter. He passed away on 19 December 1953. The Prime Minister of Jordan, Fawzi al-Mulki, gave the eulogy at his funeral.
Jabir was a member of the Jerusalem Municipal Council (1939-1945) and a member of the board of advisors of the Department of Antiquities. In addition, he was an honorary member of the Scientific Institute and of the Geographical and Anthropological Leagues in Switzerland.
Adil Jabir is considered to be among the cream of the crop of Palestinian men of letters and learning in the twentieth century; he was a great educator, scholar of linguistics, and distinguished economist, and possessed a memory that had no par. He was a thoughtful man whose opinion was valued by political figures.
From his Works
"روح القومية لمكس نوردو". "لسان الحال" (سلسلة مقالات، آذار/ مارس ونيسان/ أبريل 1922)
 [The Spirit of Nationalism by Max Nordau], an Arabic translation of Max Nordau's "Nationalités" in Paradoxes sociologiques. Paris: Félix Alcan, ed. 1897, pp. 134-165.
Sources
Halaby, Mona Hajjar. "Out of the Public Eye: Adel Jabre's Long Journey from Ottomanism to Binationalism." Jerusalem Quarterly 52 (Winter 2013): 6–24.
حمادة، محمد عمر. "موسوعة أعلام فلسطين". دمشق: دار قتيبة، 1985.
العودات، يعقوب. "من أعلام الفكر والأدب في فلسطين". عمان: د. ن.، 1976.
لوباني، حسين علي. "معجم أعلام فلسطين في العلوم والفنون والآداب". بيروت: مكتبة لبنان ناشرون، 2012.  
"من هو؟: رجالات فلسطين 1945- 1946". ط 2. عمّان: مؤسسة التعاون، 1999.
"الموسوعة الفلسطينية، القسم العام". المجلد الثالث. دمشق: هيئة الموسوعة الفلسطينية، 1984.
نويهض، عجاج. "رجال من فلسطين". بيروت: منشورات فلسطين المحتلة، 1981.
نويهض، عجاج. "رجال من فلسطين كما عرفتهم" (جمع وتصنيف بيان نويهض الحوت). بيروت: مؤسسة الدراسات الفلسطينية، 2023.