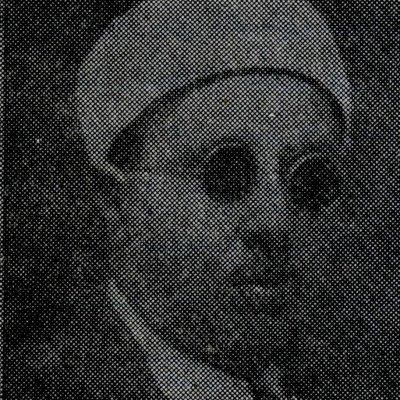 Shaykh Suleiman al-Taji al-Faruqi
الشيخ سليمان التاجي الفاروقي
Birth of Shaykh Suleiman al-Taji al-Faruqi in Ramla
1882
Faruqi Obtains His Law Degree in Istanbul
1909
Founding of the Ottoman National Party
1910
Faruqi Publishes His Poem "The Zionist Menace" in Filastin Newspaper
1913
Jemal Pasha Exiles al-Faruqi from Greater Syria
1914 to 1919
Faruqi Obtains His Doctorate from the Cairo École française de droit
1919
Al-Jami'a al-Islamiyya Newspaper Is Published in Jaffa
1932 to 1938
Faruqi Is Appointed Member of the Jordanian Senate
1951
Death of Shaykh Suleiman al-Taji al-Faruqi in Jericho
1958
Suleiman al-Taji al-Faruqi was born in Ramla. His father was Abd al-Majid al-Taji; he had one brother, Shukri, and one son, Harith.
He completed his elementary education at the hands of Shaykh Yusuf al-Khairi. He lost his sight at age nine and devoted himself to memorizing the Qur'an and to studying the sciences of the Arabic language. He then joined al-Azhar Mosque in Cairo where he studied Islamic jurisprudence, Arabic, and history. There, he impressed the great reformer Shaykh Muhammad Abdu with his intelligence and quick learning.
Faruqi returned to Palestine then travelled to Istanbul to study law, obtaining his degree in 1909 and mastering Turkish, French, and English. He sometimes sat in the Hagia Sophia Mosque and interpreted the Qur'an. He later returned to Palestine where he practiced law.
On the eve of World War I, he took part in founding the first political party aimed at resisting Zionism, the Ottoman National Party. Among its objectives were "to resist the Zionist Movement through legal means and fight it with the weapon of truth, and to remind the government of its obligations to prohibit immigration and the sale of land." Faruqi then began to publish editorials in the Beirut daily Al-Mufid warning against Palestine falling under Zionist influence. On 26 November 1913, he published a poem in the newspaper Filastin entitled "The Zionist Menace," in which he reminded the Turkish authorities of their obligation to protect Palestine.
During World War I he objected to the policy of seizing agricultural produce to feed the Turkish army and was exiled by Jemal Pasha, military governor of Greater Syria and the Hijaz, to Konya in Anatolia along with his brother Shukri.
Faruqi returned to Egypt and enrolled in the Cairo École française de droit, where he obtained a doctorate in law in 1919.
At the end of 1920, he published an article in which he called for the convening of a "national Palestinian Congress." He represented Lydda and Ramla at the Third Palestinian Arab Congress, which convened in Haifa 13-19 December 1920, and was then elected a member of the Arab Executive Committee, which ensued from that congress. He also took part in the proceedings of the Fifth Palestinian Arab Congress, held in Nablus between 20 August and 1 September 1922.
Faruqi was a prominent member of the movement that opposed the leadership of Haj Amin al-Husseini, and took part in the meeting that founded the Arab National Party, held in Jerusalem on 8 November 1923, and was elected that party's president. However, and though the policy of that opposition party was based on the same broad principles advocated by the national movement led by Haj Amin, it did not last long.
Representing the opposition, Faruqi delivered the speech of the Palestinian delegation, which met with the British Secretary for the Colonies Leo Amery in April 1925, when Amery visited Jerusalem. In July 1926 Faruqi called upon the leading figures of Palestine to convene the Seventh Arab Palestinian Congress, following which a preparatory committee of 40 members was formed. He then took part in that Congress which was held in June 1928.
On 11 December 1931, Faruqi participated in the Conference of the Palestinian Islamic Nation, held at the King David Hotel in Jerusalem. The principal objective for convening it was to challenge the Pan-Islamic Congress called by Haj Amin al-Husseini.
On 16 July 1932, Faruqi published a newspaper in Jaffa called Al-Jami'a al-Islamiyya that dealt with political, scientific, and literary affairs and sought to expose Zionist ambitions in Palestine. He described his newspaper as "Palestinian in origin, Islamic in belief and oriental in approach." The British Mandate authorities suspended publication of the newspaper several times before finally revoking its license on 24 June 1938.
When Nakba befell Palestine in 1948, Faruqi left Palestine for Jordan.
He presided over the Amman Conference whose organizers chose to convene it on 1 October 1948, the same day that the Higher Arab Committee was holding the Gaza Conference. He then took part in the Jericho conference of 1 December 1948, where King Abdullah was paid homage and the West Bank was annexed to the Hashemite Kingdom of Jordan.
On 1 September 1951, Faruqi was appointed member of the Jordanian Senate (Majlis al-a'yan), but did not last long in that Chamber.
Suleiman al-Taji al-Faruqi ("the Palestinian al-Ma'arri") was an outstanding poet, politician, and activist. He was known for his resonant orations and for his extemporizing poems. As a political figure, he is remembered for his stubborn opposition to the leadership of Haj Amin al-Husseini, which lasted to the end of his political career, and his resistance to Zionism and pro-Zionist British policy.
He died in Jericho and was buried in the Bab al-Rahma cemetery in Jerusalem.
Sources
أبو نمر، عبد الله حسن (جمع وشرح وتحقيق ونقد). "معري فلسطين، الشيخ سليمان التاجي الفاروقي: حياته وديوانه وشعره". القدس: مطبعة الرسالة المقدسية، 1993.
الحوت، بيان نويهض. "القيادات والمؤسسات السياسية في فلسطين 1917- 1948". بيروت: مؤسسة الدراسات الفلسطينية، 1981.
"الموسوعة الفلسطينية"، القسم العام، المجلد الثاني. دمشق: هيئة الموسوعة الفلسطينية، 1984.
نويهض، عجاج. "رجال من فلسطين". بيروت: منشورات فلسطين المحتلة، 1981.      
العودات، يعقوب. "من أعلام الفكر والأدب في فلسطين". عمان: د. ن.، 1976.
"من هو؟: رجالات فلسطين 1945-1946. ط 2". عمان: مؤسسة التعاون، 1999.  
Abdul Hadi, Mahdi, ed. Palestinian Personalities: A Biographic Dictionary. 2nd ed., revised and updated. Jerusalem: Passia Publication, 2006.