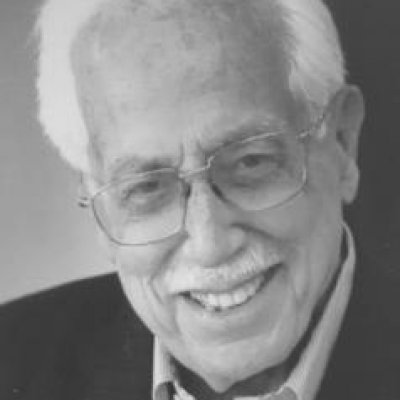 Ibrahim Dakkak
ابراهيم الدقاق
Ibrahim Dakkak was born in Jerusalem in 1929 to Jamil Dakkak and Nazha Yunus al-Husseini. He and his wife, Ghida Fu'ad Abd al-Hamid Dakkak, had three children: Azzam, Amal, and Mundhir.
Dakkak went to a traditional elementary school (kuttab) and then to the Islamic School, later known as al-Bakriyya School; he received his high school diploma in 1947 from the Rawdat al-Ma'arif al-Wataniyya School.
Upon graduating from high school, he worked for nine months at the Jerusalem Post Office.
Following the Nakba of 1948, Dakkak went to Cairo where his brother was working. He enrolled in the American University of Cairo (AUC) to study science and mathematics, graduating in 1952. During his university years, he joined the Union of Palestinian Students, representing AUC students.
Dakkak moved to Kuwait where he worked as a teacher of mathematics for about seven years, working at several schools.
In 1959, the Kuwaiti authorities expelled him because of his progressive political views, so he decided to continue his education. He enrolled at Robert College in Istanbul to study civil engineering, and graduated in 1961.
Following graduation, Dakkak returned to Jerusalem, now under Jordanian rule, where he worked as an engineer with the Ittihad Enterprises Company, headquartered in Amman. His first project was the building of the Tireh Girls College in Ramallah. He also supervised the building of an agricultural school in the town of Shawbak in east Jordan, where he lived for two years.
In 1964 he founded in Jerusalem a private company with another partner which completed a number of projects in Jericho, Ramallah, and Jerusalem, among which was the Islamic Orphanage in the village of Azariyya near Jerusalem. (It was not completed because of the 1967 war.)
Dakkak decided to stay in Jerusalem after it was occupied by Israeli forces in June 1967, and he remained after its forcible annexation to Israel. With other colleagues, he sought to revitalize the Engineers Association, and he worked with others to reactivate other professional unions such as the Union of Pharmacists and the Bar Association and to unite them in a single federation of professional unions, as a way to challenge the occupation.
Dakkak then joined the Higher Islamic Council of Jerusalem headed by Shaykh Abd al-Hamid al-Sayih, which played a political role in addition to maintaining the religious Waqfs and Shari'a courts and protecting Islamic sacred shrines. In August 1969, Denis Michael Rohan, an Australian extremist fundamentalist who had arrived in Israel as a tourist set fire to the al-Aqsa Mosque, causing significant damage, and Dakkak played a prominent role in restoring the mosque.
Dakkak was a member of the Palestine National Front, founded in August 1973, to act as the arm of the PLO in the West Bank and Gaza. As a result of his nationalist activity, the Israeli occupation authorities placed him under house arrest for four years. In November 1978, he was chosen to be secretary of the National Guidance Committee, which was formed in response to the Camp David Accords, which had ignored the Palestine question. This committee, which included mayors of towns and nationalist figures, assumed a public role from its headquarters in the Federation of Professional Unions in Jerusalem.
Dakkak was elected head of the West Bank Engineers Association between 1978 and 1986, and he led nationalist activities undertaken by the Federation.
In 1977 Dakkak was one of the founders of the Arab Thought Forum in Jerusalem, an "independent intellectual society with special interest in development"; he headed it between 1978 and 1992. In 1982, the forum held the first "development conference" aimed at reinforcing the steadfastness of residents in the occupied Palestinian territories and at developing autonomous resources to resist relations of dependence imposed by Israel on the Palestinian economy.
In 1987, the forum issued a journal in Jerusalem called Development Affairs and Dakkak was chosen as its editor.
When the popular intifada broke out in the West Bank and Gaza in December 1987, Dakkak helped to form popular committees and played a prominent role in defending Jerusalem and its institutions. In 2002, he joined Dr. Haydar Abd al-Shafi, Mustafa Barghouti and others in founding and launching the Palestinian National Initiative Movement.
In 1973, Dakkak had been elected chairman of the Board of Trustees of Birzeit University and was the founding director of the Maqasid Benevolent Society's Hospital in Jerusalem. He also took part in founding the Palestine Higher Education Council established in the late seventies to oversee institutions of higher education and to coordinate and support their activities. He chaired the Birzeit Board of Trustees once more between 2003 and 2006.
In May 2012, Birzeit University awarded Dakkak an honorary doctorate degree in Social Development "in recognition of his long service in several cultural, professional and political fields, especially his pioneering role while chairing Birzeit University's Board of Trustees."
Dakkak died in early June 2016, in Jerusalem, and large crowds of Palestinians followed his funeral from the al-Aqsa Mosque. He was buried in the Bab al-Sahira cemetery.
Ibrahim Dakkak was a prominent symbol of the Palestinian national struggle against Israeli occupation and one of the leading Jerusalem figures following its occupation by Israel in 1967. He was exemplary in his generosity, honesty, and credibility; he was a man of strong will, determination, and principle and was known for his principled defense of democratic rights and freedoms.
President Mahmoud Abbas announced his death and granted him the Medal of Merit and Distinction in recognition of "his national and syndicalist role, and his genuine contributions to preserve the historic and cultural Arab character of Jerusalem and its landmarks."
Selected Works
"نحو برنامج تنموي من أجل الصمود". القدس: الملتقى الفكري العربي، 1981.
[Towards a Development Program aimed at Endurance]
"مشكلة السكن في الأرض المحتلة". بيروت: المؤسسة العربية للدراسات والنشر، 1981.
[The Problem of Housing in the Occupied Land]
"نحو استراتيجية وخطة عمل للصراع العربي- الصهيوني". (مع مجدي حماد وآخرون). بيروت: مركز دراسات الوحدة العربية، 2010.
[Towards a Strategy and a Plan to Resolve the Arab-Zionist Conflict]
"Les conditions sociales dans la Jérusalem arabe." In Camille Mansour, ed., Les Palestiniens de l'intérieur. Paris: Les livres de la Revue d'études palestiniennes, 1989.
"Back to Square One: A Study in the Re-emergence of the Palestinian Identity in the West Bank, 1967–1980." In Alexander Schölch, ed., Palestinians over the Green Line, 64–101. London: Ithaca Press, 1983.
Sources
Abdul Hadi, Mahdi, ed. Palestinian Personalities: A Biographic Dictionary. 2nd ed., revised and updated. Jerusalem: Passia Publication, 2006.
"Ibrahim Dakkak Remembered (1929–2016)." Jerusalem Quarterly, no. 66 (Summer 2016): 6–11.
Fischbach, Michael. "Dakkak, Ibrahim." in Philip Mattar, ed. Encyclopedia of the Palestinians. New York: Facts on File, 2005.
"عن النضال في القدس والداخل بعد هزيمة حزيران: إبراهيم الدقاق" (مقابلة). "مجلة الدراسات الفلسطينية". العدد 108 (خريف 2016)، ص 168-176.
"في رحاب الحرم الشريف: إبراهيم الدقاق يتذكر". "مجلة الدراسات الفلسطينية". العدد 50 (ربيع 2002)، ص 117-120.