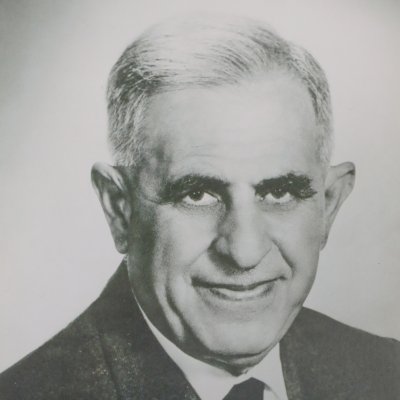 Musa Hanna Nasir was born on 4 April 1895 in the town of Birzeit near Ramallah into a Protestant Christian family. His parents were Pastor Hanna Nasir and Saada Shatara (born in Ramallah). He had eight sisters: Nabiha, Wadiah, Nimeh, Najlah, Aniseh, Victoria, Elizabeth, and Mary. He married Linda Khoury (born in Jaffa) and had two daughters, Rima and Samia, and one son Hanna.
Nasir studied in the Bishop Gobat School on Mount Zion in Jerusalem. He then completed his higher education at the American University of Beirut, where he graduated in 1914 with a bachelor's degree in physics.
During World War I, Nasir served as an officer in the civilian branch of the Ottoman Army, working in areas such as communications, medical services, and accounting. For a short time just before the war ended, he studied economics and political science at Robert College in Istanbul.
In 1920, Nasir was appointed as a district commissioner by the British Mandate, and he held this position in several Palestinian towns and villages during the Mandate period. At the same time, he was greatly involved in supporting, directing, and laying plans for Birzeit School, an elementary school founded in 1924 by his sister, Nabiha Nasir, and Ratiba Shuqair. In 1930, Birzeit became a co-educational high school. In 1942, and in line with the customary naming of high schools during this period in Palestine, it was renamed Birzeit College.
On 30 June 1936, Nasir was among the senior Palestinian government officials who signed a petition to the Mandate High Commissioner to protest the pro-Zionist policies of the British government. The petition signatories also affirmed their support for the Palestinian nationalist demands as expressed by the Arab Higher Committee. In its report issued in July 1937, the British Peel Commission of Inquiry into the events of the Palestinian Revolt of 1936 assessed the stance taken by these senior Palestinian government officials and concluded that it "precludes any extension of their employment in the higher posts of the Administration, including the Judiciary."
In 1944 Nasir was appointed as one of three assistants to the General Secretary of the British Mandate in Palestine. He resigned from this post two years later, in protest against the British government's policy of encouraging Jewish immigration to Palestine.
In 1946 Nasir established an Institute of Public Administration in Jerusalem. Its purpose was to train Palestinians for administrations in the various private and government sectors. Its board of trustees included prominent Palestinians, among them Abdel Majid Shoman, Fuad Saba, Ahmad Touqan, Ahmad Samih Khalidi, and Yousef Haykal. The institute had to shut down after the Nakba in 1948.
In early 1947, Nasir and several education experts in Palestine established The Arab Educational Society. Its Executive Committee was composed of Musa Nasir, Abdallah Rimawi, and Abdul Hamid Yaseen. For over a year, it worked to ensure that educational curricula in Palestinian schools conformed with the Palestinian society's needs and aspirations. The society ended its work in 1948.
Nasir settled in Birzeit after the Nakba. Seeing the influx of hundreds of Palestinian refugees who fled to Birzeit, Nasir mobilized the residents of his town, especially youth volunteers, to collect statistical data on the refugees. These statistics were later presented to the International Committee of the Red Cross (ICRC) to enable it to provide aid to the refugees. The census he conducted was the first data collection of its kind of Palestinian refugees, and this earned him a certificate of appreciation from the ICRC.
Nasir served as Minister of Transportation in the Jordanian government formed by Tawfiq Abu al-Huda on 7 May 1949 during which he oversaw the expansion of the Qalandia Airport north of Jerusalem. He also served as Minister of Finance in the next government also formed by Abu al-Huda on 30 September 1952. On 20 September 1959, he was appointed Minister of Foreign Affairs in the government of Hazzaʿ al-Majali, and he remained in this position after Majali was assassinated on 29 August 1960 and a new government was in place, led by Bahjat Al-Talhouni; it lasted until 28 June 1961.
In 1959 and 1960 Nasir, as Minister of Foreign Affairs, headed the Jordanian delegation to the UN General Assembly in New York. In both sessions he gave speeches in which he called attention to the Palestinian cause and the Palestinian refugee problem. He also led the Jordanian delegation to the conference of Arab Foreign Ministers convened in August 1960 in Chtoura, Lebanon during which the Palestinian issue and the Israeli plan to divert the course of the Jordan River were deliberated.
Nasir was also elected twice to the Jordanian Parliament, serving in the Second Parliament (April 1950–May 1951) and the Third Parliament (September 1951–June 1954). He was also appointed as a member of the Jordanian Senate in early November 1959, where his appointed lasted for two years.
Nasir retired from political life in 1961. He devoted his time and energy to advocate for the Palestinian cause in various forums as well as to the development of Birzeit College in particular and education in general. It was during that time that as president of Birzeit College, he developed it into a two-year community college in 1961.
In 1962, Nasir was appointed head of the Higher Education Commission in Jordan, and he also chaired the committee tasked by King Hussein to create a plan to establish a national university in Jordan. As part of its mandate, the committee traveled to the United States, Great Britain, and other European countries to learn about different models of higher education and subsequently made a recommendation of the model that would be most suitable for Jordan. Since the mandate of the commission was restricted to academic matters related to the envisioned university, Nasir wrote a special memorandum to the King suggesting that the university be established in Jerusalem and be called the Arab University of Jerusalem, as a direct challenge in the face of the Hebrew University of Jerusalem so as to impress to the world the Arab identity of Jerusalem. Nasir's recommendation was not adopted, and the University of Jordan was established in 1962 in Amman.
Nasir was also active in the affairs of the Episcopalian Church to which he and his family belonged. He was among those who fought tirelessly to appoint Arab bishops in the Episcopalian Church in the region. (That effort was successful.)
The Jordanian government awarded Nasir the Order of Independence-First Class (wisam al-istiqlal) on 21 July 1949 and Supreme Order of the Renaissance-First Class (wisam al-nahda) on 24 June 1960. He was also awarded prestigious honors from a number of other Arab and Islamic countries.
Musa Nasir passed away on 26 August 1971 in the town of Birzeit and was buried there.
Musa Nasir is remembered as an illustrious Palestinian politician, parliamentarian, and an educator. He considered education in general and girls' education in particular to be a major means of human and social development. He had a vision of transforming the school started by his sister into a university, and he took the necessary steps to lay the groundwork for that. He defended the Palestinian cause in Arab and international forums, focusing, in particular, on the human and moral dimension of the Palestinian cause.
Selected writings
A Christian Arab Speaks. New York: Arab Information Center, January 1960.
Toward a Solution of the Palestinian Problem: A Selection of Speeches and Writings 1946–1966. Birzeit: Author, 1966.
Quest for Peace. Birzeit: Author, 1969.
Peace in the Middle East. Birzeit: Author, 1969.
"نحو الكمال". "المقتطف"، يوليو/ تموز 1914، ص 59-62.
[Towards Perfection]
المملكة الأردنية الهاشمية. "تقرير اللجنة الملكية لشؤون التربية". عمان: 1962.
[The Hashemite Kingdom of Jordan: Report of the Royal Commission for Educational Affairs]
العرب أمام مفترق الطرق : سلسلة مقالات في صحيفة القدس (8 – 12 1970)
[The Arabs at a Crossroads: A Series of Articles in al-Quds newspaper (8,9,10 December 1970)]
Sources
Abdul Hadi, Mahdi, ed. Palestinian Personalities: A Biographic Dictionary. 2nd ed., revised and updated. Jerusalem: Passia Publication, 2006.
Audeh, Ida, ed. Birzeit University: The Story of a National Institution. Birzeit: Birzeit University, 2010.
https://www.birzeit.edu/sites/default/files/university_publication/Birzeit-University-The-Story-of-a-National-Institution-EN.pdf
"Musa Nasir." https://www.birzeit.edu/en/biography/musa-nasir-0
العقاد، أحمد خليل وسليم عاصم بك السعيد ومحمد مصطفى بك الخالدي. "من هو؟ رجالات فلسطين، 1945-1946". عمان: مؤسسة التعاون، 1999، الطبعة 2.