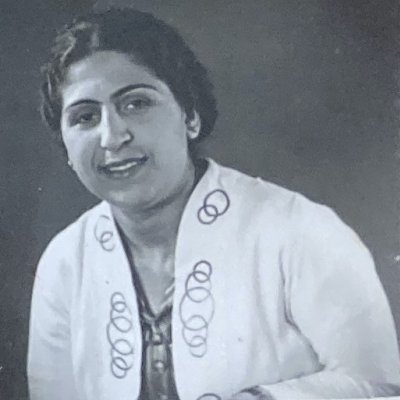 Qudsia Khourshid
قدسية خورشيد
2 December 2009,
Pennsylvania
Qudsia Khourshid (sometimes spelled Qudsiyya Khurshid) was born in Jerusalem on 5 August 1912 to a Palestinian mother, Jamila Abbood, and a father of Turkish origin, Khurshid Holozadah. (Khourshid's family believes that she may have been born in the mid 1910s.) She was one of six children, with three sisters—Nimati, Suad, and Najdat—and two brothers, Abd al-Rahman (Abed) and Lutfi. According to the family, her father had worked as an assistant to the Ottoman governor of the Jerusalem administrative district and later for Cook's Travel Agency.
Qudsia and her siblings attended British-run schools and at least one sister also graduated from high school. In April 1935, Qudsia graduated from the Women's Training College in Jerusalem, a highly competitive, tuition-based residential institution with a reputation for attracting students from elite Muslim families, with a certificate to teach elementary-level classes in girls' schools. She worked as a teacher at the girls' section of the Amiriyyeh School in al-Bireh and later became school director. She also worked for a time as a principal in a Jericho school and at the Ma'muniyeh Girls School, which was under the supervision of the Supreme Muslim Council.
In Mandate Palestine, Khourshid worked as a broadcaster, writer, and editor for the Palestine Broadcasting Service (PBS). Like many Palestinian intellectuals, writers, and musicians, she worked on contract with the PBS from 1940 through 1947, editing many of the children's stories broadcast on air and writing and delivering talks that often focused on Islam and women's achievements. (She also did similar but less frequent work for the Near East Arab Broadcasting Service in Arabic.) Some of her programs incorporated her interest in literature, as in a three-episode series on famous women writers and activists (Aisha Taymour, Malak Nasif, and May Ziadeh) delivered in late 1940 during the PBS school broadcasts. One of her talks, "The Character of Women," was included as a chapter in the 1942 book Broadcasting Talks, a collection of PBS talks by fourteen scholars and writers. That chapter begins with the following paragraph:
Everything in life develops with the development of the age, and progresses with human progress. Since the pillars of life rest on two pillars, namely woman and man, the progress of one of them is connected to the progress of the others. Is civilization considered real and progress considered correct, if one half [of it] moves steps ahead and the other half is left miles behind? There is no doubt that civilization is progressing, and there is also no doubt that women's position in it is dangerous – but rather, it is at the height of danger, and has become a prime matter in steering the world.
Her work on PBS educational radio programs was supported by a six-month stint in England, where she studied similar programming at the BBC.
Khourshid was also known for her poetry and essays. She published her work in Palestinian periodicals like the short-lived but influential weekly al-Mihmaz, published by Emile Habibi, Munir Haddad, and others; al-Dhakira, another literary journal edited by Muhammad Darwish; and al-Qafila, Huna al-Quds, and al-Muntada, the cultural magazines published in association with the PBS.
In November 1947, Khourshid married Hassan Ahmad, a Jerusalem native who had emigrated to the United States in 1924. She moved with him to the United States in January 1948, just a few months before the Nakba.  She settled in Pennsylvania, took her husband's last name, and had four sons: Imad al-Dean, Maher, Nabil, and Hani. Starting in the early 1960s, she became active in several civic organizations, notably the women's branch of the Kiwanis Club, a volunteer-based service organization, and the YWCA, a volunteer organization that supports women and girls in the United States and worldwide.
Khourshid was an active community member in other ways as well. Beginning in the 1960s and through the 1990s, she spoke at schools and to community organizations about Palestine, Islam, and the Middle East. Starting in the mid-1950s, she communicated regularly with local US newspapers about their coverage of Palestine and the Middle East. In some ways, these communications – typically in the form of a letter to the editor or an op-ed – carried the analytical and topical spirit of the essays she had published in the 1940s. (She also continued to write poetry, including in English, but did not publish this work.) In 1970, she was awarded the Daughters of the American Revolution's Americanism Medal, its highest honor for foreign-born US citizens, in recognition of her character and contributions to her community.
In Khourshid's final years, she focused on her family, particularly her grandchildren, and on connections with relatives and friends elsewhere in the United States, in Palestine, and in Jordan. She died in Pennsylvania in 2009.
Sources
Greenberg, Ela. Preparing the Mothers of Tomorrow: Education and Islam in Mandate Palestine. Austin: University of Texas Press, 2010.
Holozada Ahmad, Qudsia Khurshid (1912–2009). Papers. Northwestern University Library. https://findingaids.library.northwestern.edu/repositories/6/resources/1887
Mahfouz Abdou, Ibrahim, and Refqa Abu-Remaileh. "A Literary Nahda Interrupted: Pre-Nakba Palestinian Literature as Adab Maqalat." Journal of Palestine Studies 51, no. 3 (2022): 23–43.
Stanton, Andrea. This Is Jerusalem Calling: State Broadcasting in Mandate Palestine. Austin: University of Texas Press, 2013.
"حديث الإذاعة". القدس: القسم العربي في دار الإذاعة الفلسطينية، 1942.
[Broadcasting Talks]
Picture: Courtesy of Northwestern University Archives