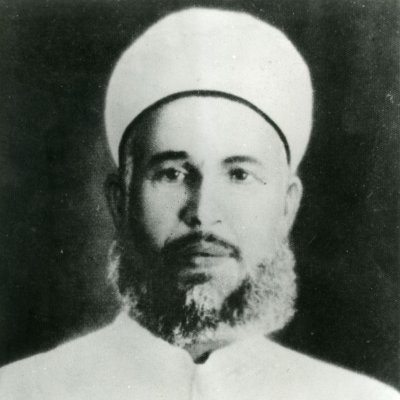 Izzeddin al-Qassam
عز الدين القسّام
Izzeddin al-Qassam was born in the town of Jabla, south of the Syrian city of Latakiya.
His father was Abd al-Qadir, his mother was Halima Qassab, his brother was Fakhr al-Din, and his sister was Nabiha. He had four half-brothers (through his father): Ahmad, Mustafa, Kamil, and Sharif.
He and his wife, Amina Na'nu', had three daughters—Khadija, Aisha, and Maimana—and one son,  Muhammad.
He completed his elementary education in his hometown at his father's elementary school (kuttab). At age fourteen he travelled to Cairo to attend the lectures given at al-Azhar Mosque by its most distinguished teachers, including the great reformer Shaykh Muhammad Abdu.
Having obtained the Ahliyya diploma, he returned to Jabla in 1903, where he succeeded his father in running the kuttab and teaching the basics of reading and writing, Qur'an memorization, and some modern subjects.
While he was in Egypt, a rebellion against the British occupation was led by Ahmad Urabi, an Egyptian army officer; it was unsuccessful. Qassam was deeply affected by the nationalist turmoil, as well as by the calls for reform, the maintenance of national unity, self-reliance, and resistance to foreign occupation.
Qassam became the imam of the Mansuri Mosque in Jabla and won people's respect through his sermons, lectures, and personal conduct. His reputation spread to neighboring regions.
After the Italian attack on Libya in 1911, Qassam called for aiding the Arab people of Libya through demonstrations and volunteering to fight on their side. He was among the first to join the revolt against French occupation on the Syrian coast in 1919–20 and fought valiantly against the French in the mountains surrounding the Citadel of Salah al-Din (Qal'at Salah al-Din) north of Latakiya. Aware that he posed a threat to their control, the French authorities sentenced him to death.
In late 1920, Qassam, his family, and some companions sought refuge in the city of Haifa where he worked as a teacher in the Burj secondary school established by the Muslim Society, which was in charge of Islamic waqf in the district of Haifa. He then began to give religious lessons in the Istiqlal Mosque built by that same society, where his sermons excited much attention. A few years later he became imam and preacher of that mosque and founded a night school to offer adult literacy classes.
Qassam took part in founding a branch of the Society of Muslim Youth in Haifa and in July 1928, he was elected its president. That society was effective in spreading national consciousness among youth and men and in drawing them into its ranks.
In 1930, Qassam was appointed a religious official (ma'dhun) by the Shari'a Court in Haifa. In this capacity, he traveled through the villages of the Galilee and got to know the people who lived there, all of which increased his reputation.
Qassam followed closely the growing menace of Zionism as a result of British support of the "Jewish National Home," and he became convinced that Britain was the root cause of the problem and that only armed struggle could restrain the Zionist project. In his view, this could only be accomplished through sincerity of faith; abandonment of all party affiliation and family loyalty; cooperation; sacrifice; commitment to secrecy; and strict organization and timing. He combined this with a particular compassion toward the poor and those with very low income, and he sought continuously to improve their lot in life. He drew into his circle an ever increasing number of countryside inhabitants and elderly who migrated to Haifa to work in its port, industries and refinery, living in miserable suburbs to the east of the city. Many of them had been forced off their lands when these passed into Jewish hands.
Qassam was reluctant to declare jihad against British colonialism before his preparations were completed. However, the flood of mass Jewish immigration in the early 1930s, the increasing level of surveillance over his activities by the authorities, and his apprehension of a pre-emptive move against him all led him to declare jihad on the night of 12 November 1935 in Haifa. Along with eleven companions, he took to the forests of the village of Ya'bad in the district of Jenin, where for six hours they fought a much larger British force on 20 November. Shaykh Qassam and four of his men were killed, and the others were wounded or captured.
In mourning, Haifa declared a general strike on 21 November 1935. All shops and restaurants closed their doors and thousands turned out to bid farewell to the fallen martyr and his companions in the largest funeral procession ever seen in that city.
Qassam was buried in the cemetery of Balad al-Shaykh in the Haifa district.
Izzeddin al-Qassam is regarded as the most venerable figure of Palestinian jihad, a source of inspiration for Palestinian resistance for succeeding generations. His assassination was to a large extent instrumental in igniting the Great Palestinian Rebellion (1936–39).
Sources
حموده، سميح. "الوعي والثورة: دراسة في حياة وجهاد الشيخ عز الدين القسّام". ط 2. القدس: جمعية الدراسات العربية، 1986.
الحوت، بيان نويهض. "القيادات والمؤسسات السياسية في فلسطين 1917-1948. بيروت: مؤسسة الدراسات الفلسطينية، 1981.
دروزة، محمد عزة. "مذكرات محمد عزة دروزة: سجل حافل بمسيرة الحركة العربية والقضية الفلسطينية خلال قرن من الزمن" (خمسة مجلدات). بيروت: دار الغرب الإسلامي، 1993.
عودة، زياد. "من رواد النضال في فلسطين 1929- 1948". عمان: دار الجليل للنشر والدراسات والأبحاث الفلسطينية، 1987.
"الموسوعة الفلسطينية"، القسم العام، المجلد الثالث. دمشق: هيئة الموسوعة الفلسطينية، 1984.
نافع، بشير موسى. "الشيخ عز الدين القسّام: مصلح وقائد ثورة". "حوليات القدس"، العدد 14، خريف- شتاء 2012، ص 6- 21.
نويهض، عجاج. "رجال من فلسطين". بيروت: منشورات فلسطين المحتلة، 1981.             
Abdul Hadi, Mahdi, ed. Palestinian Personalities: A Biographic Dictionary. 2nd ed., rev. and updated. Jerusalem: Passia Publication, 2006.