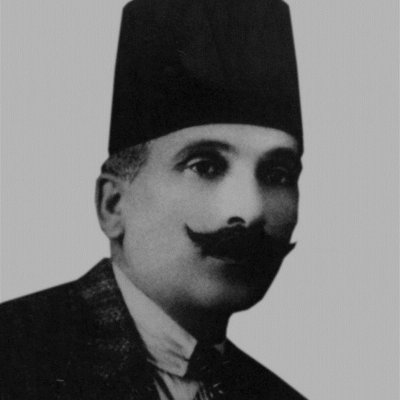 Rashid al-Haj Ibrahim
رشيد الحاج إبراهيم
Rashid al-Haj Ibrahim was born in Haifa to Ibrahim ibn Ahmad Agha al-Haj Ibrahim. His wife, Nazmiyya Tsabihji, hailed from Damascus. He had two sons, Abd al-Rahman and Samih, and one daughter, Su'ad, who later married Muhammad Abdu Ahmad Hilmi Abd al-Baqi.
Haj Ibrahim completed his elementary and secondary education in Haifa during the Ottoman period. He educated himself to a high degree and became fluent in Turkish.
He began his career as an official in the Hijaz Railway in Haifa. After the British occupation of 1917, he worked in business with his brother.
He opposed both the British occupation of Palestine and Jewish immigration. From early 1919, he began to oppose Jewish attempts to seize mudawwara (jiftlik) or government lands. He was a signatory to a memorandum of protest submitted by Haifa representatives to the Paris Peace Conference.
He represented Haifa in the first Arab Palestinian congress, held in Jerusalem in January 1919, and continued to represent Haifa until the seventh congress held in June 1928. He also attended the General Syrian Congress held in Damascus in June-July 1919 as a representative of the Muslim-Christian Association of Haifa.
In 1924, he was a member of a delegation sent by the Palestinian National Associations and headed by Haj Amin al-Husseini that visited Iraq and the Gulf Emirates to collect donations for repairs to the al-Aqsa Mosque. He also co-founded a newspaper called al-Yarmuk in Haifa, whose first issue appeared on 31 August 1924. (It ceased publication in 1933.)
In 1930, he became manager of the newly established Arab Bank in Haifa.
He became president of the Society of Muslim Youth when it was established in 1928 and continued in that role until 1932, when he was succeeded by Shaykh Izzeddin al-Qassam, who was his intimate friend.
He was a member of the preparatory committee of the Pan-Islamic Congress held in Jerusalem in December 1931 and then was one of two Haifa representatives to that congress. Haj Ibrahim was one of the eleven founders of the Istiqlal (Independence) Party, officially announced in August 1932. He was also a member of the higher committee of the Arab National Fund in 1932, which sought to gather contributions to save the lands of Palestine.
He won the municipal elections that were held in Haifa in January 1934.
In autumn 1935, Haj Ibrahim was one of the people to whom Shaykh Izzeddin al-Qassam addressed a letter informing them of his intention to take to the mountains and to wage jihad against British colonialism.
Haj Ibrahim presided over Haifa's national committee, which, on 21 April 1936, initiated the call to the citizens of the city to go on a general strike, and he was one of the most prominent advocates of national unity. He went to Jerusalem to urge Haj Amin al-Husseini to create a supreme leadership council for the General Strike consisting of the leaders of the six Arab parties. This council evolved to become the Arab Higher Committee.
On 15 June 1936, the British authorities arrested him and interned him in the Sarafand camp where he remained until 23 October of that year.
Haj Ibrahim took part in the Arab National Congress held on the second week of September 1937, in the Syrian town of Bludan. The congress rejected the scheme of partition proposed for Palestine by the British Peel Commission. When Lewis Andrews, district commissioner for Galilee, was assassinated on 26 September 1937, the British authorities arrested him again and exiled him to the Seychelles. He and his companions were released only at the end of 1938, on condition that they stay outside Palestine until further notice. He was the only Palestinian leader sent into exile to the Seychelles by the British who was not a member of the Arab Higher Committee.
In April 1940, the British allowed him to return to Palestine. His health was poor. By then he worked as a branch manager of the Bank of the Arab Nation, founded in Jerusalem by Ahmad Hilmi Pasha after his break-up with Abd al-Hamid Shuman and his Arab Bank.
In early 1943, Haj Ibrahim joined Awni Abd al-Hadi in reorganizing the Independence Party; he strongly supported the plan to establish the Arab National Fund. In February 1943, he attempted to form a united Arab front in Haifa to supervise and guide national activity in the absence of Haj Amin al-Husseini from Palestine. To that end he chaired a meeting attended by a large number of Palestinian leaders, but his attempt proved unsuccessful.
After the UN Partition Resolution was passed in 1947, Haj Ibrahim supervised the defense of Haifa. As president of the Islamic Society, he called for a general meeting of all men in the city and adopted a number of resolutions including calling upon the Arab Higher Committee to proclaim general mobilization in the country and to request that all men aged 18 to 60 be inducted into military service, to arm the youths and give them military training. When the national committees were formed in Palestine, he headed the Haifa national committee, which supervised the affairs of the city.
Haj Ibrahim was touring neighboring Arab countries to alert them to the situation in Haifa when his city fell to the Zionist forces on 23 April 1948.
After the Nakba, Haj Ibrahim took refuge in Amman, where he spent the rest of his life. He died in Amman and was buried in Damascus.
Rashid al-Haj Ibrahim is one of Palestine's most prominent political, economics, and banking leaders during the British Mandate. He was an Arab nationalist, an Islamist, and a unionist, upright in character, a man of great integrity, unwavering in his principles and decisive in action. After the Nakba, he wrote his memoirs while in Amman where he set down the responsibility of the Palestinian leaders for what had happened. These memoirs are a unique example of self-criticism regarding the causes of the Nakba.
Sources
الحوت، بيان نويهض. "القيادات والمؤسسات السياسية في فلسطين 1917-1948". بيروت: مؤسسة الدراسات الفلسطينية، 1981.
دروزة، محمد عزة. "مذكرات محمد عزة دروزة: سجل حافل بمسيرة الحركة العربية والقضية الفلسطينية خلال قرن من الزمن" (خمسة مجلدات). بيروت: دار الغرب الإسلامي، 1993.
"الموسوعة الفلسطينية، القسم العام، المجلد الثالث". دمشق: هيئة الموسوعة الفلسطينية، 1984.
"من هو؟: رجالات فلسطين 1945-1946 (ط 2)". عمان: مؤسسة التعاون، 1999.
نويهض، عجاج. "رجال من فلسطين". بيروت: منشورات فلسطين المحتلة، 1981.                      
Abdul Hadi, Mahdi, ed. Palestinian Personalities: A Biographic Dictionary. 2nd ed., revised and updated. Jerusalem: Passia Publication, 2006.