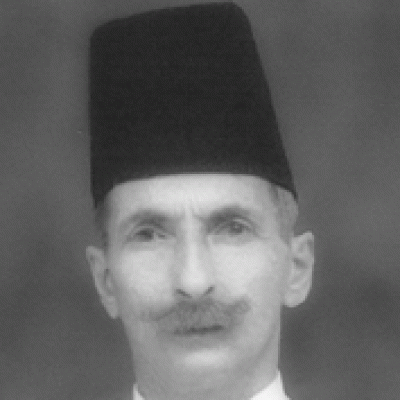 Ahmad Hilmi Pasha Abd al-Baqi
أحمد حلمي باشا عبد الباقي
29 June 1963,
Suq al- Gharb
Ahmad Hilmi Pasha Abd al-Baqi was born in Saida, where his father was an officer in the Ottoman army. He had one son, Muhammad, and three daughters: Safiyya, Saniyya, and Naila.
Abd al-Baqi received his elementary education in Nablus and then went on to study in Istanbul. He subsequently returned to Nablus to work in the Agrarian Bank and became an accountant and director of state land in the two Iraqi provinces of al-Diwaniyya and al-Amara. In al-Amara, he joined the Iraqi tribal volunteers who, alongside the Ottoman army, fought the advancing British troops during World War I.
He was a prominent member of al-Istiqlal al-Arabi (Arab Independence) Party, which was established in 1919 as the public and political front of al-Arabiyya al-fatat (Young Arab Society), a secret Arab nationalist society established in Paris in 1911. In 1919–20 he was appointed director-general of the Ministry of Finance in the government of Emir Faisal in Damascus.
In 1922 he moved to Transjordan where he was appointed Financial Counselor. King Hussein of the Hijaz appointed him supervisor of the Hijaz Railway and gave him the title of Pasha.
When the Great Syrian Revolt of 1925 broke out against the French occupation, Abd al-Baqi became a member of the Central Committee to Aid Syrian Victims. The British authorities exiled him to Hijaz for incitement against the French Mandate in Syria. He later went to Cairo and, in 1926, to Palestine where Haj Amin al-Husseini, head of the Supreme Islamic Council, invited him to become inspector-general of Islamic waqf properties.
Abd al-Baqi was a member of the Jerusalem delegation at the Islamic conference held in Jerusalem in the autumn of 1928 to defend the al-Buraq / Western Wall and other sacred Islamic places. He was also a member of the Central Committee to Aid Victims formed by the Supreme Moslem Council in the wake of the al-Buraq Revolt of August 1929.
Abd al-Baqi resigned from his post in 1930 when he became general director of the Arab Bank, which he had established jointly with Abd al-Hamid Shuman. He also established the Agricultural Bank to supply peasants with credit, the Arab National Bank and the National Fund to save Arab lands threatened with seizure by the Zionists. He set up the Dunam Project whose aim was to enable each Palestinian to own a dunam of land in regions where lands were under threat of Zionist seizure.
He took part in the Pan-Islamic Congress held in Jerusalem in December 1931 in his capacity as conference treasurer and secretary of the Hijaz Railway.  He was elected honorary president of the Jerusalem Chamber of Commerce and of the Salahiyya Charitable Association, which had set up the Sons of the Nation Institute to provide shelter to the children of martyrs.
He became chairman of a national joint stock company called the Exhibition Company, which in July 1933 organized an Arab industrial exhibition at which industrialists from most Arab countries were represented. This was in response to the Zionist exhibition of March 1932.
In 1936 Abd al-Baqi was invited to join the Arab Higher Committee. When Lewis Andrews, British District Commissioner for Galilee, was assassinated in 1937, the Mandate authorities immediately arrested and exiled Abd al-Baqi, along with other colleagues on the committee, to the Seychelles Islands in the Indian Ocean. (They were released the following year.) Later, Abd al-Baqi was a member of the Palestine delegation to the London Round Table Conference in February 1939. He spent the first years of World War II in Lebanon because the British authorities had banned him and other Palestinian politicians from returning to Palestine. Upon his return to Palestine at the end of 1942, Abd al-Baqi took part in an unsuccessful effort to form a political committee to lead the national movement. In August 1943, he reestablished, together with Awni Abd al-Hadi and Rashid al-Haj Ibrahim, the Arab National Fund to save Arab lands.
From November 1945 to May 1946, Abd al-Baqi attempted with other Palestinian leaders to reestablish the Arab Higher Committee that was disbanded by the British in 1937. As this effort failed, the Arab League Council itself reconstituted the Arab Higher Committee in Bludan in June 1946, and invited Abd al-Baqi to join. He was almost the only one among his colleagues who led the defense of Jerusalem against Zionist onslaughts in the wake of the UN Partition Resolution of 1947. On 16 June 1948, Jordan's King Abdullah appointed him as military governor of Jerusalem.
The Council of the Arab League selected him as prime minister of the All-Palestine Governement the formation of which was announced in Gaza at the end of September 1948. In that capacity he continued to attend Arab League meetings in Cairo until his death.
Albanian by origin, Turkish by upbringing, Arab by sentiment, and Palestinian by identity and loyalty, Abd al-Baqi was among the most prominent Palestinian figures in the economic, political, commercial, banking, social, and agricultural fields. He was noteworthy for his pioneering initiatives in setting up companies, banks, and funds. In his political conduct, he rose above party concerns. A poet, he demonstrated selflessness, unfailing decency, deep religious faith, courage, and generosity of spirit.
He died in Suq al-Gharb, Lebanon in 1963, and he was buried in Jerusalem.
Writing
"ديواني"، إعداد وتقديم إبراهيم نصر الله. بيروت: المؤسسة العربية للدراسات والنشر، 2002.
[My Collection of Poetry] 
Sources
الأزعر، محمد خالد. "حكومة عموم فلسطين في ذكراها الخمسين". عمان: م. خ. الأزعر، [1998].
الحوت، بيان نويهض. "القيادات والمؤسسات السياسية في فلسطين 1917- 1948". بيروت: مؤسسة الدراسات الفلسطينية، ط 1، 1981.
دروزة، محمد عزة. "مذكرات محمد عزة دروزة: سجل حافل بمسيرة الحركة العربية والقضية الفلسطينية خلال قرن من الزمن". بيروت: دار الغرب الإسلامي، ط 1، 1993.
العودات، يعقوب. "من أعلام الفكر والأدب في فلسطين". عمان: د.ن.، 1976.
من هو؟: رجالات فلسطين 1945- 1946". ط 2. عمان: مؤسسة التعاون، 1999.
"الموسوعة الفلسطينية"، القسم العام، المجلد الثاني. دمشق: إصدار هيئة الموسوعة الفلسطينية، 1984.
نويهض، عجاج. "رجال من فلسطين". بيروت: منشورات فلسطين المحتلة، 1981.
Abdul Hadi, Mahdi, ed. Palestinian Personalities: A  Biographic Dictionary. 2nd ed., revised and updated. Jerusalem: Passia Publication, 2006.