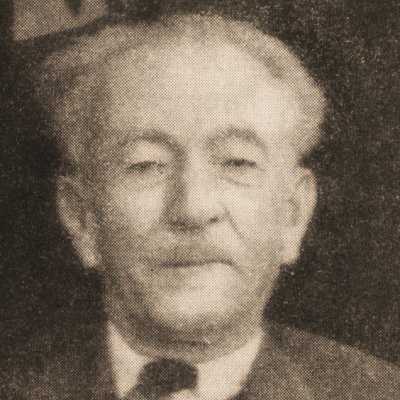 Awni Abd al-Hadi
عوني عبد الهادي
Awni Abd al-Hadi was born in Nablus. His father was Haj Qasim. His brother, Fuad, was a lawyer. He and his wife, Tarab Abd al-Hadi, had two sons, Mazin and Wa'il.
Abd al-Hadi began his secondary school studies in Beirut, where his father was in the judiciary; he graduated from a high school in Nablus in 1907. His father sent him to Istanbul, where he enrolled in the Malakiyya College. 
While a student in Istanbul, Abd al-Hadi participated in founding the nationalist Literary Club (al-Muntada al-adabi) in 1909 and began to defend the Arabs against campaigns of Turkification.
In 1910, he went to Paris to complete his legal studies at the Faculty of Law, from which he graduated in 1914.
In 1911, he and his fellow students in Paris created a secret nationalist association called al-Arabiyya al-fatat (Young Arab Society ); he was elected a member of its first executive board. He was also a member of a committee that called for the First Arab Congress, which was held in Paris in June 1913, presided over by Abd al-Hamid al-Zahrawi, and in collaboration with the Ottoman Party for Administrative Decentralization (constituted of Syrian members) in Cairo.
For the duration of World War I Abd al-Hadi remained in Paris, where he worked for a short while as a teacher and then as a bank accountant before he moved on to journalism.
Between 1918 and 1920, Abd al-Hadi accompanied Prince Faisal (the son of Sharif Hussein) to Paris and London as an adviser and returned with him to Damascus in early 1920. There, he joined the Arab Independence Party which was founded as the public face of the secret al-Arabiyya al-fatat society.
When Faisal was elected king of Syria in March 1920, Abd al-Hadi was appointed his secretary. He was further entrusted for a short period with the secretariat for foreign affairs in the government formed by Faisal and headed by Ali Rida al-Rikabi.
French forces invaded Syria on 25 July 1920, and King Faisal left the country; Abd al-Hadi went to Cairo. The following year, he went to Amman, where Prince Abdullah ibn al-Hussein appointed him head of the diwan in the Transjordan principality.
Abd al-Hadi returned to Jerusalem in late 1921 and began to practice law. At that point in time, his nationalist activity was confined to following closely the political news and membership in the Central Committee for the Relief of Syrian Victims, which was formed in 1925 in the wake of the Syrian rebellion against French occupation.
His role within the framework of the Palestinian national movement emerged after he took part in the Seventh Palestinian National Congress held in Jerusalem between 20 and 27 June 1928; he was elected a member of the Arab Executive Committee that emanated from that conference. In this capacity, Abd al-Hadi was a member of most Palestinian delegations sent outside the country. He also testified before successive British commissions of inquiry, including the Shaw Commission sent by the British government in October 1929 to investigate the al-Buraq Disturbances, and the Peel Commission sent to Palestine in November 1936 to investigate the General Strike and the Great Palestinian Rebellion.
Abd al-Hadi also took part in the Pan-Islamic Congress held in Jerusalem in December 1931 and was elected a member of the Executive Committee that resulted from it. While the conference was being held, he hosted on 13 December in his house in Jerusalem an Arab National Conference that included a number of former members of the al-'Arabiyya al-fatat society and other figures from the Faisal era who issued an Arab nationalist and unionist covenant.
On 2 August 1932, Abd al-Hadi was a signatory to an official announcement in Jerusalem that reconstituted the Independence Party on the basis of the following three principles: full independence of the Arab countries; the total and indivisible unity of the Arab countries; and Palestine as an Arab country and a natural part of Syria. He was elected a member of that party's executive.
The British authorities arrested him after he had taken part in the massive demonstrations in Jaffa in October 1933 against Britain's pro-Zionist policy. He was sentenced along with other colleagues to ten months in prison with hard labor but after a short detention, he was released from jail in return for a written undertaking.
When the General Strike was proclaimed in April 1936 to protest British policies, Abd al-Hadi assumed the post of Secretary of the Arab Higher Committee chaired by Haj Amin al-Husseini. The British arrested him among others and interned him in the Sarafand camp for a number of months during that strike.
Following publication of the report of the Peel Commission on 7 July 1937, which recommended the partition of Palestine, Abd al-Hadi travelled first to Baghdad as a delegate of the Arab Higher Committee and then to Geneva to set out the Arab case against partition before the Permanent Mandates Committee of the League of Nations. From Geneva he proceeded to Paris (because it became impossible for him to return to Palestine once the revolt against partition had intensified) and from there to Cairo in late 1937. He remained in Cairo for several years since the British had forbidden him along with other nationalist leaders to return to Palestine. During his residence in Cairo he actively sought to arouse the interest of Egyptian politicians in the cause of Palestine.  In February 1939 he was selected as a member of the Palestinian delegation to the London Round Table Conference.
In 1941, King Abd al-Aziz of Saudi Arabia delegated Abd al-Hadi to tour the Arab countries and seek agreement for the formation of a Pan-Arab Body, which would strive to unify Arab governments' policy and eliminate disagreements among them.   
In early 1943 the British allowed him back into Palestine where he participated in efforts to reorganize the Arab Independence Party and to save Palestinian lands from falling into the hands of Zionist organizations.
On 22 March 1945, Abd al-Hadi addressed a memorandum protesting the special Appendix on Palestine attached to the Charter of the Arab League because that Appendix did not explicitly state the need to recover the natural rights of Palestine's Arabs. (The omission in the Appendix reflected the desire of Arab member states to appease Britain, which was the dominant power in the Arab East and the holder of the Mandate over Palestine.)
Abd al-Hadi became a member of the Arab Higher Committee that was reconstituted (after having been banned by the British authorities in 1937) in November 1945 under the sponsorship of Jamil Mardam Bey, Syrian acting prime minister, who was delegated by the Arab League to visit Palestine, mediate among the Palestinian political parties, and persuade them to form a representative body (seen as urgently needed with the end of World War II). Abd al-Hadi also became a member of the Arab Higher Front formed at the end of May 1946, which included representatives of the five Palestinian political parties that opposed the Palestine Arab Party led by Jamal al-Husseini.
Abd al-Hadi was one of the Arab representatives who, in March 1946, testified before the Anglo-American Committee of Inquiry that toured Palestine.
He attended the meeting of the Arab League council held in the Syrian town of Bludan from 8 to 12 June 1946, held in order to respond to the report of the Anglo-American Committee.
Before the British Mandate on Palestine ended on 15 May 1948, Abd al-Hadi moved to Damascus and then to Cairo. At the end of September 1948, he went to Gaza to take part in the Palestine National Council, which proclaimed the formation of the All-Palestine Government, and was selected as a member of that government. However, he soon resigned and returned to Damascus to devote most of his time to contacting Syrian and Arab politicians and to writing his memoirs.
While in Damascus he would often visit Amman until he decided in 1951 to settle there. He then occupied a number of posts. In early September 1951 he was appointed minister delegate of the Hashemite Kingdom of Jordan to Cairo and then ambassador until December 1955. He was also appointed member of the Jordanian Senate (Majlis al-a'yan) and then foreign minister of Jordan from July 1956 until the end of that year. 
In early 1964, Abd al-Hadi left Amman for Cairo after having been selected as chairman of the permanent Legal Committee of the Arab League. His tenure as chairman was renewed many times until his death on 15 March 1970.
Awni Abd al-Hadi was a nationalist, an experienced and brilliant diplomat, and an advocate of Arab unity and independence. He had a wide grasp of national affairs and was on intimate terms with leaders of unionist inclinations in Arab capitals. He was moreover a skilled lawyer who defended Arab farmers against Zionist attempts to expropriate their lands. Known for his sharp wit and charm, he is regarded as one of the most prominent figures in the cause of Palestine during the British Mandate. He died in Cairo and was buried there.
Selected Writings
The Historic Resources of Turkey. Translated from Turkish into French. Paris: Payot, 1915.
"مذكرات عوني عبد الهادي". تقديم وتحقيق خيرية قاسمية. بيروت: مركز دراسات الوحدة العربية، 2002.
[The Memoirs of 'Awni 'Abdul-Hadi]
"عوني عبد الهادي، أوراق خاصة". إعداد خيرية قاسمية. بيروت: منظمة التحرير الفلسطينية- مركز الأبحاث، 1974.
['Awni 'Abdul-Hadi: Private Papers]
Sources
الحوت، بيان نويهض. "القيادات والمؤسسات السياسية في فلسطين 1917- 1948". بيروت: مؤسسة الدراسات الفلسطينية، 1981.
دروزة، محمد عزة. "مذكرات محمد عزة دروزة: سجل حافل بمسيرة الحركة العربية والقضية الفلسطينية خلال قرن من الزمن". بيروت: دار الغرب الإسلامي، 1993.
العودات، يعقوب. "من أعلام الفكر والأدب في فلسطين". عمّان: د. ن.، 1976.
"من هو؟: رجالات فلسطين 1945- 1946". ط 2. عمان: مؤسسة التعاون، 1999.
"الموسوعة الفلسطينية"، القسم العام، المجلد الثالث. دمشق: هيئة الموسوعة الفلسطينية، 1984.
نويهض، عجاج. "رجال من فلسطين". بيروت: منشورات فلسطين المحتلة، 1981.      
Abdul Hadi, Mahdi, ed. Palestinian Personalities: A Biographic Dictionary. 2nd ed., revised and updated. Jerusalem: Passia Publication, 2006.