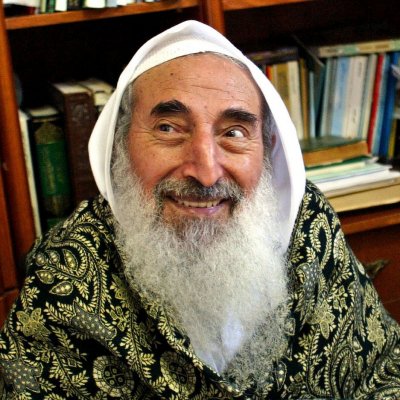 Ahmad Ismail Yasin
أحمد إسماعيل ياسين
Birth of Ahmad Ismail Yasin in al-Jura
1936
Yasin's Family Moves to Gaza Strip
1948
Yasin Interrupts His Studies to Work to Support His Family
1949 to 1950
Yasin Is Fully Paralyzed after an Accident
1952
1957
Yasin Participates in the Mass Demonstration Calling for the Reinstatement of the Egyptian Administration in Gaza Instead of International Supervision
Yasin Graduates from Filastin School
1958
Yasin Starts to Teach Arabic and Islamic Education at UNRWA Schools and Mosques
1958
Yasin Registers as a Remote Student of Ain Shams University in Cairo to Study English
1964
Yasin Is Detained for a Month in the Central Gaza Prison by the Egyptian Authorities, Charged with Belonging to the Muslim Brotherhood
1965
Yasin Becomes the Leader of the Society of Muslim Brotherhood in the Gaza Strip
1968
The Islamic University of Gaza Is Established
1978
Yasin Is Imprisoned by the Israeli Authorities, Charged with Forming an Armed Group
1984 to 1985
1985
Yasin Is Released in the Prisoner Exchange Deal Reached by Israel and PFLP-GC
Ahmad Ismail Yasin was born in the village of al-Jura, near al-Majdal, in June 1936. His mother was Sa'da Abdullah al-Habil. He had three brothers and one sister as well as a half-brother and a half-sister. He had three sons and eight daughters.
His father died when he was five years old, so he was raised by his mother and was known in his childhood as "Ahmad Sa'da" (in reference to his mother and to distinguish him from the many other members of the Yasin clan named Ahmad).
He was educated at al-Jura primary school until the fifth grade but was forced to leave with his family to the Gaza Strip after the 1948 Nakba in Palestine. There, the family suffered the same poverty and deprivation that most other refugees were to suffer in a refugee camp and lived on the children's earnings in the fishing industry.
Yasin and his friends would visit Egyptian army camps to ask for food for their families and kin. He was forced to abandon his studies for a year (1949–50) and work in a ful [broad beans] restaurant in Gaza to support his family.
In the summer of 1952, sixteen-year-old Yasin suffered an injury so severe that it affected his entire life. While playing with some friends on the seashore, he broke some vertebra in his neck, which resulted in total paralysis of his limbs. He went on to complete his secondary education. He attended the Imam Shaf'i Secondary School and al-Rimal school (later renamed al-Karmel High School); he graduated from Palestine school in 1958. On 10-11 March 1957, he participated in the mass demonstrations that took place in Gaza following the departure of the Israeli forces and that called for a rejection of international supervision over Gaza and the restoration of the Egyptian administration in Gaza.
In early October 1958, he obtained a job teaching Arabic and Islamic education at the UNRWA schools. Most of his teaching salary went to help his family. He also worked as preacher and teacher in the mosques of Gaza.
In 1964 he enrolled (as a remote student) in Ain Shams University in Cairo to study English while teaching in Gaza. However, the arrests of Muslim Brotherhood supporters in 1965 prevented his return to Egypt to sit for his exams.
At the end of 1965 the Egyptian authorities in Gaza arrested him for a month in the central Gaza prison and charged him with belonging to the Muslim Brothers; they released him when no evidence was found linking him organizationally with that organization.
After the defeat of June 1967 and Israel's occupation of the Gaza Strip for the second time, Yasin continued his missionary activity from the pulpit of the Abbas Mosque in the Shati refugee camp, calling for resistance to the occupier. He was also active in collecting donations and in helping the families of martyrs and prisoners.
In 1968 he was chosen to lead the Society of Muslim Brothers in the Gaza Strip. He helped to build up the organization and founded the Islamic Center (al-Mujamma' al-Islami) in 1973 with the aim of offering religious, social, cultural, health and sporting services. He also contributed to the founding of the Islamic University of Gaza in 1978.
Beginning in the early 1980s, Yasin's activity centered on his call to resist the occupation and on preparing for armed struggle against it. In April 1984, the Israeli authorities ordered his arrest; he was charged with forming an armed group and with possession of weapons and was sentenced to 13 years in prison. However he was released in May 1985 in a prisoner exchange deal between the Israeli occupation and the Popular Front for the Liberation of Palestine-General Command.
After the first Palestinian intifada erupted in December 1987, Yasin and a group of Islamic activists in Gaza created an Islamic organization to struggle against Israeli occupation; they called it Movement of Islamic Resistance (better known by its Arabic acronym Hamas). This organization spread to the occupied West Bank and played an important role in the intifada. Since then, Yasin has been regarded as the spiritual father of that movement.
In late August 1988, Israeli occupation forces stormed his house and threatened to exile him to Lebanon. Then on 19 May 1989, the Israelis arrested him together with hundreds of Hamas members. An Israeli military court sentenced him to life imprisonment to which was added fifteen years, having charged him with nine indictments including incitement to kill or kidnap Israeli soldiers and founding the military and security wings of Hamas.
Conditions in prison led to a worsening of his (always fragile) health; in addition to total paralysis, he suffered from a number of ailments. This made it necessary for him to be admitted to a hospital several times.
A guerrilla unit of the Izzeddin al-Qassam Brigades (the military wing of Hamas) attempted to spring him and other old and sick prisoners out of jail. It kidnapped an Israeli border policeman named Nissim Toledano on 13 December 1992 and offered the Israelis an exchange deal. The Israeli authorities rejected the deal and Toledana was found dead near Jerusalem. During the later years of his imprisonment several other attempts were made to free him.
He was finally released in October 1997 in an exchange deal between the Kingdom of Jordan and Israel, whereby Jordan released two Mossad operatives captured after a failed attempt to assassinate Khalid Mishal, head of the Hamas political bureau, in the capital Amman. In return, Yasin was set free. After a few days in a Amman hospital, he returned to Gaza where tensions began to mount between him and the Palestinian Authority led by Yasir Arafat.
After the outbreak of the second Palestinian intifada in late September 2000, the Israeli occupation authorities apparently decided to systematically assassinate the leaders of Hamas who had participated actively in that intifada. On 6 September 2003, Yasin was the object of a failed assassination attempt when an Israeli helicopter targeted an apartment in Gaza where he was present with his student and companion Ismail Haniyeh.
The wheelchair bound Yasin was assassinated at dawn on 22 March 2004, after an Israeli Apache helicopter fired three missiles at him as he was leaving an Islamic Center mosque in the Sabra quarter of the Gaza Strip. Seven of his companions were killed with him, and two of his sons were injured.
When news of his assassination spread, tens of thousands of Palestinians poured onto the streets of Gaza to express their anger. The funeral prayer was held in al-Omari Mosque; thousands prayed in the streets because the mosque (the largest in Gaza) could not hold them all.
Shaykh Ahmad Yasin is regarded as one of the most prominent symbols of active Palestinian nationalism of the twentieth century. He is quoted as having once said: "The Israeli enemy leaves the Palestinian people only one choice: resistance, struggle, and martyrdom."
Sources
منصور أحمد، "الشيخ أحمد ياسين شاهد على عصر الانتفاضة". سلسلة كتاب الجزيرة- شاهد على العصر. بيروت: الدار العربية للعلوم- دار ابن حزم، 2003.
الطنطاوي، عبد الله، "الشيخ أحمد ياسين". في "ويكيبيديا الإخوان المسلمون: الموسوعة التاريخية لجماعة الإخوان المسلمين". على الرابط: ikhwanwiki.com
Related Content
Related Thematic Chronologies