Bayt Dajan — بيت دَجَن
Population
| Year | Arab | Total |
| --- | --- | --- |
| 1931 | | 2653 |
| 1944/45 | 3840 | 3840 |
Land Ownership (1944/45) in dunums
| Year | Arab | Jewish | Public | Total |
| --- | --- | --- | --- | --- |
| 1944/45 | 12261 | 1975 | 3091 | 17327 |
Land Use (1944/45) in dunums
Use
Arab
Jewish
Public
Total
400
56
3091
3547 (20%)

Cultivable (Total)

| Use | Arab | Jewish | Total |
| --- | --- | --- | --- |
| Citrus and Bananas | 7990 | 1078 | 9068 |
| Plantation and Irrigable | 3195 | 758 | 3953 |
| Cereal | 676 | 83 | 759 |

11861
1919
13780 (80%)
The village, located on a sandy hill on the central coastal plain, lay at the intersection of the Jaffa–Ramla highway with the coastal highway that went south to Gaza. It was slightly to the south of the Jaffa–Jerusalem railway line. Bayt Dajan dated back to Canaanite times and was mentioned in the Old Testament (Joshua 15:41) as Beth Dagon. It was known as Bit Daganna during the reign of the Assyrian king Sennacherib (705–681 B.C.) The village was called Keparadagon in the Roman period. The Samaritans populated the village in the fourth century and stayed in it until at least the tenth century. The Ummayyad Caliph Hisham ibn 'Abd al-Malik (A.D. 724–743) built a palace in it that had white marble columns. The Crusaders built a castle—Casal Maen—that Saladin destroyed and Richard the Lionheart rebuilt in 1191. In 1596, Bayt Dajan was a village in the nahiya of Ramla (liwa' of Gaza) and had a population of 633. It paid taxes on a number of crops, including wheat, barley, fruits, and sesame, as well as on other types of produce and property such as goats, beehives, and vineyards.

In the late nineteenth century, Bayt Dajan was a moderate-sized village surrounded by olive trees.

The houses of the modern village, made of adobe brick or stone and cement, were spread across the site in no particular pattern. The population was predominantly Muslim; among the 3,840 Arab residents, 130 were Christian. The village had two elementary schools, one for boys and another for girls. The boys' school, founded in 1920, had acquired fifteen dunums of land that were used for instruction in agronomy, and had a library with 600 books. In 1940, 353 male students and 102 female students were enrolled in these schools. In 1944/45 a total of 7,990 dunums of village land was devoted to citrus and bananas and 676 dunums were allocated to cereals; 3,195 dunums were irrigated or used for orchards. The citrus orchards were irrigated from artesian wells. The remains of the aforementioned Crusaders' castle were still visible in 1948.
As early as January 1948, the village was the target of attacks by Palmach units stationed in the Qeren Qayemeth le-Yisra'el (Jewish National Fund) building, just south of the Jaffa–Jerusalem highway. During one of the Palmach's forays, a village house was destroyed. Perhaps the largest attack during this period took place on 26 February, when Jewish forces, armed with mortars, machine-guns and hand grenades, carried out a dawn raid in which three villagers were killed and four wounded, according to Palestinian historian Aref al-Aref. One house was blown up in this attack. The New York Times reported that the British took part in a clash in the village on 19 February, after one of their military convoys stopped in the village to arrest a man carrying a rifle. The article states that villagers opened fire on the troops and that two of the villagers were killed and three wounded. One of the British soldiers also was killed when he 'jumped from his truck with a Bren machine gun in his arms and ran into the village with his gun blazing,' in the words of the New York Times correspondent.
Bayt Dajan was probably not occupied until the end of April, when it fell to the Alexandroni Brigade in the course of Operation Hametz, an assault between 25 and 31 April on Salama, Yazur, and other Arab villages east of Jaffa.
Israeli historian Benny Morris notes that the inhabitants of Bayt Dajan evacuated on 25 April 1948, under the influence of the beginning of the attacks on 'a neighboring town,' that is, Jaffa. Palestinian historian Aref al-Aref states that it was occupied on 30 April, adding that its occupation could have been averted had the Arab Liberation Army not agreed to a British-sponsored truce in the area after heavy bombardment of Tel Aviv on 28 April. However, the New York Times account stated that Bayt Dajan was captured over two weeks later along with the village of al-Qubab, as Jewish forces fought to reopen the highway to Jerusalem. 

In early June, the Jewish National Fund set to work to destroy Bayt Dajan along with a number of other villages. By 16 June, Israeli prime minister Ben-Gurion wrote in his diary that destruction was proceeding in the village. In September, it was named as a suitable site for the settlement of new Jewish immigrants.

There are four settlements on village lands: Beyt Dagan (134156), which was established on the site six months after the conquest of Bayt Dajan in April 1948; Mishmar ha-Shiv'a (133157), built in 1949; Chemed (135158), built in 1950; and Gannot (133158), built in 1953.
A number of houses remain; some are deserted, others are occupied by Jewish families, or used as stores, office buildings, or warehouses. They exhibit a variety of architectural features. One inhabited house is made of concrete and has a rectangular plan, a flat roof, rectangular front windows, and two arched side windows. Another has been converted into the Eli Cohen synagogue; it is made of concrete and has a flat roof and a round-arched front door and window. Stars of David have been painted on its front door and on what appears to be a garage door. One of the deserted houses is made of concrete and has a gabled, tiled roof that is starting to collapse; others are sealed and stand amidst shrubs and weeds. Cactuses and cypress, fig, and date palm trees grow on the site. The land in the vicinity is cultivated by Israelis.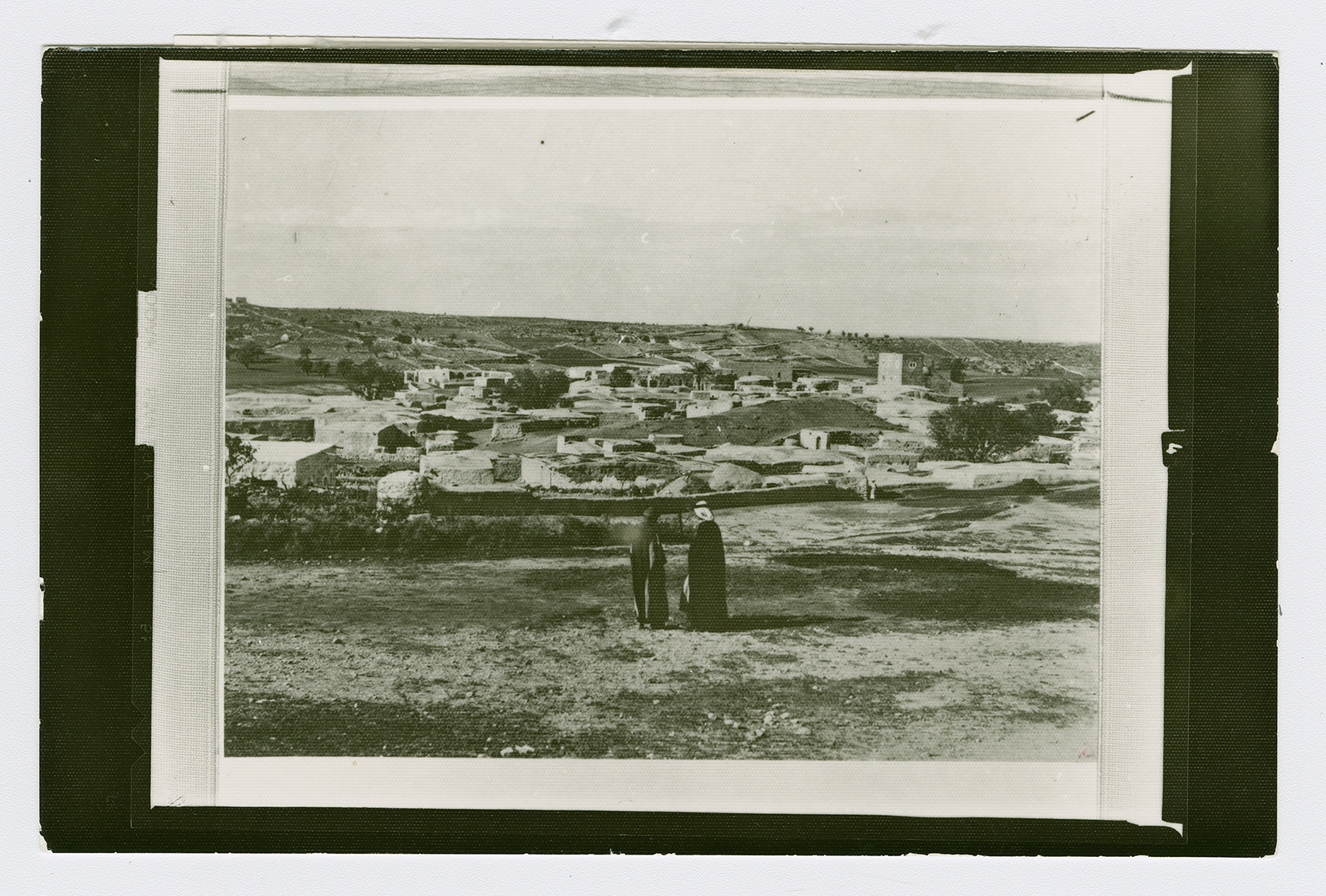 Bayt Dajan (I)
The village of Bayt Dajan.
pre-1935
Photo by Khalil Ra'ad Collection, Institute for Palestine Studies
Bayt Dajan (II)
Village building now used by Israelis.
July 1987
Photo by Rafi Safieh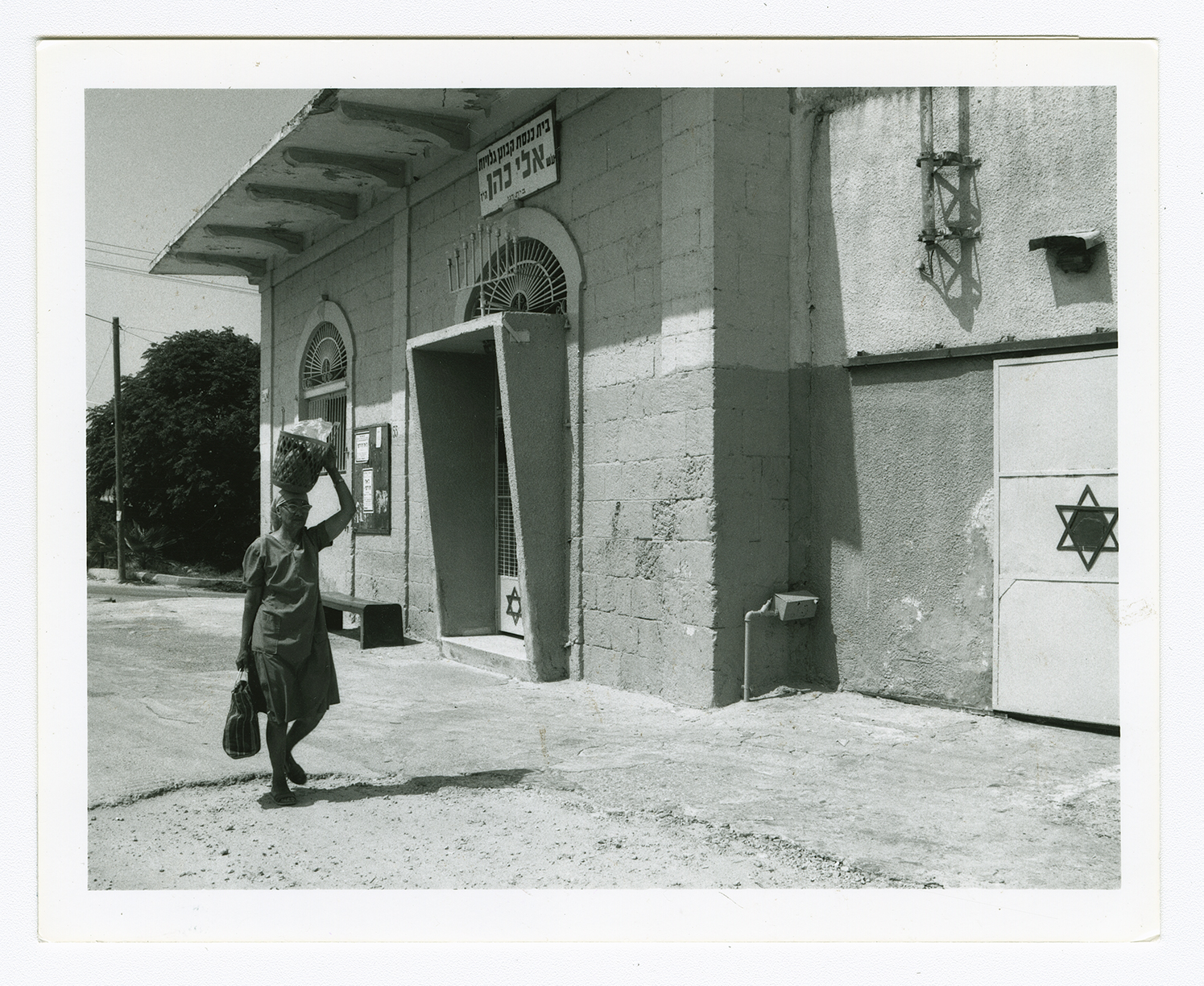 Bayt Dajan (III)
A house in Bayt Dajan converted into a synagogue.
July 1987
Photo by Rafi Safieh