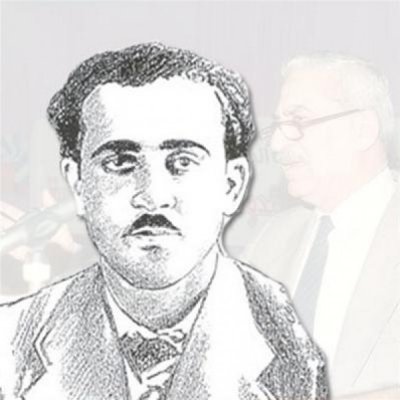 Abd al-Rahim Mahmoud
عبد الرحيم محمود
Abd al-Rahim Mahmoud was born in the town of Anabta, in the Tulkarm district. His father, Shaykh Mahmoud Abd al-Halim, was a poet and a religious scholar. He and his wife, Mahfuza Nassar, had three children: al-Tayyib, Talal, and Ruqayya.
His elementary school education was completed in Anabta, and his middle school education was completed at the Tulkarm middle school. Then he enrolled at the National Najah School in Nablus, where the poet Ibrahim Tuqan was a teacher. He was an exceptional student in Arabic, religion, and history and a gifted football player.
Following graduation, Mahmoud joined the Police School in Bethlehem on 1 February 1933, where he remained for six months. He then worked in the police force in Nazareth for three months until one day he was ordered to arrest a citizen. He refused to do so and resigned. He returned to Nablus to work as a teacher of Arabic language and literature at the National Najah School.
His poetic gift and his patriotism both grew at an early age; so too did his fear of the Zionist threat to Palestine and to the sacred possessions of its people. In the summer of 1935, Emir Sa'ud ibn Abd al-Aziz visited Palestine and passed by Anabta, where Abd al-Rahim delivered a poem of welcome in his presence, which included a reference to the Zionist danger. One verse from that poem became celebrated:
Have you come to visit the Aqsa Mosque,
Or to bid it farewell before it is lost?
Following the General Strike and Great Palestinian Rebellion of 1936, Mahmoud joined the ranks of the freedom fighters in 1937. His commander was Abd al-Rahim al-Haj Muhammad. The British authorities pursued him, so he sought refuge in Damascus. He went on to Baghdad where he joined the Iraqi Military Academy in 1939–40, graduating with the rank of lieutenant. There, he met the leader Abd al-Qadir al-Husseini.
Mahmoud worked as a teacher and then as headmaster of the Ashshar School in Basra. He then joined the Rashid Ali al-Kilani revolt in 1941, along with a number of Palestinians who had sought refuge in Iraq. Following the collapse of that revolt, he returned to Palestine to teach once more in his old school, now renamed The National Najah College. Between 1942 and 1948, Mahmoud published most of his poetry and articles, especially those he published in al-Ittihad newspaper in Haifa and in the magazine al-Ghadd.
Following the UN Partition Resolution and the outbreak of fighting between Arabs and Zionist militias, Mahmoud joined the Salvation Army, an irregular army of Arab volunteers fighting for Palestine. In mid-January 1948, he travelled to Damascus where he completed an officers' training session at the Qatana camp and was then sent back to Palestine as head of a company in the Hittin brigade, one of the detachments of the Salvation Army. His unit fought a number of engagements against the Zionist forces in Marj ibn Amir. In May 1948, the brigade moved to Galilee where Mahmoud was promoted to first lieutenant and adjutant to the brigade commander. The Hittin brigade fought several battles in the vicinity of Nazareth.
On 13 July 1948, Abd al-Rahim Mahmoud was killed by a shell as the Hittin brigade was carrying out an attack on the Jewish colony of al-Sajara, close to the Arab village of al-Shajara, in the district of Tiberias. He was buried in Nazareth.
Abd al-Rahim Mahmoud was both one of the most prominent younger Palestinian poets and a freedom fighter who gave his life to his homeland, thus coming to be known as the "martyr poet."
The novelist Jabra Ibrahim Jabra described him as follows: "Abd al-Rahim Mahmoud is the first knight-poet in our modern poetry, who followed up his words with action." The poet Fadwa Tuqan said of him: "The voice in his poetry is the voice of the people of Palestine." The poet Abd al-Karim al-Karmi (Abu Salma) wrote: "Abd al-Rahim was the most faithful son of the most sacred mother. He carried her wounds in his heart … its mornings glowed in his verses and his songs assumed the colors of meadows."
Among his celebrated verses are the following:
I shall carry my soul on the palm of my hand
And toss it into the pits of death:
Either a life that pleases a friend,
Or a death that enrages the enemy.
On 14 September 1956, a memorial gathering was held in Amman to commemorate the poet. A committee was then formed which issued a collection of his poetry in Amman in 1958. In 1988, the poet Izz al-Din al-Manasra edited and published his complete works (poetry and articles).
In 1990, the PLO awarded him the Jerusalem Medal for Culture, Arts and Literature. The municipalities of Nablus and Anabta named city streets after him.
Selected Works
"ديوان عبد الرحيم محمود"، تقديم كامل السوافيري. بيروت: دار العودة، 1987.
[Diwan]
"الأعمال الكاملة للشاعر عبد الرحيم محمود (القصائد - المقالات)". جمع وتحقيق عز الدين المناصرة. دمشق: دار الجليل، 1988.
[Complete Works (Poems and articles)]
Sources
Abdul Hadi, Mahdi, ed. Palestinian Personalities: A Biographic Dictionary. 2nd ed., revised and updated. Jerusalem: Passia Publication, 2006.
Descamps-Wassif, Sara. Dictionnaire des écrivains palestiniens. Paris: Institut du monde arabe, 1999.
شواهنة، صلاح. "الشاعر عبد الرحيم محمود شهيد معركة الشجرة". دمشق: دار المبتدأ، 1993.
العودات، يعقوب. "من أعلام الفكر والأدب في فلسطين". عمّان: د. ن. ، 1976.
لوباني، حسين علي. "معجم أعلام فلسطين في العلوم والفنون والآداب". بيروت: مكتبة لبنان ناشرون، 2012.
محمود، أديب رفيق وطارق عبد الكريم محمود (إعداد). "عبد الرحيم محمود بين الوفاء والذكرى". الطيبة: مركز إحياء التراث، 1990.
المناصرة، عز الدين، "الشاعر الشهيد عبد الرحيم محمود (1913- 1948) في ذكراه". موقع "دنيا الوطن"، 30 تموز/ يوليو 2012.
"الموسوعة الفلسطينية، القسم العام، المجلد الثالث". دمشق: هيئة الموسوعة الفلسطينية، 1984.
نويهض، عجاج. "رجال من فلسطين". بيروت: منشورات فلسطين المحتلة، 1981.